Flexible e-ink is, again, being heralded as the future of mobile computing, this time with navigation by manipulation of semi-rigid jabber-slablets, as well as grey-on-grey animated action.
The revolution comes from boffins at Queens University, Ontario, who are demonstrating how flexible e-ink can create a computing surface that can be twisted and bent to issue commands to the device. The electronics required to act on those commands are rather less flexible, but that's not preventing the flood of hyperbole coming from the University's Human Media Lab:
"This is the future. Everything is going to look and feel like this within five years," claims Roel Vertegaal, the lab's director. "This computer looks, feels and operates like a small sheet of interactive paper. You interact with it by bending it into a cellphone, flipping the corner to turn pages, or writing on it with a pen."
The problem is that the phone is not really like paper at all: the screen is flexible, but the electronics of what the researchers call the "PaperPhone" remain stubbornly rigid, as seen when the prototype is wrapped around a wrist. There's a video too, which also shows just how terrible video can look on an e-ink screen: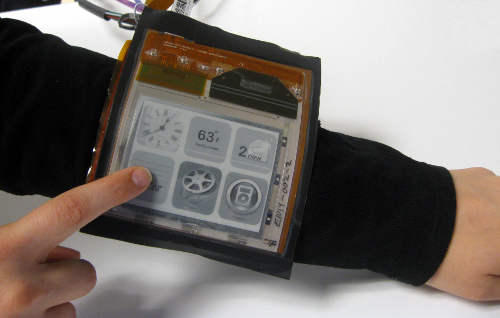 Don't laugh, you'll all be wearing one in less than a decade
This isn't even the first time we've seen flexible e-ink in action – the Redius (from Polymer Vision) had a screen that rolled up and made it into production before the company went bust. We even had the chance to play with one, briefly, and were impressed by the device.
Another innovator, Plastic Logic, also managed to bankrupt itself with its own e-reader, but is now busy spending Russian money to work out how to make the rest of the electronics flexible. By printing electronics on sheets of plastic, the company still hopes to create a device which really will "shape with your pocket" – something Vertegaal claims of his "PaperPhone" prototype but is really only true of the screen.
The real value of flexible screens isn't in flexing them deliberately, but making them resistant to the flexing that takes place by accident in normal use. A flexible screen (and flexible electronics) will bend, not break, and there's real value there.
Aside from the hyperbole, the University Lab has done some interesting work with navigation by flex, with a video and research paper (PDF) which are worth following up if you're interested in new models of human/computer interfacing. But a phone will need a lot more than flexibility to have Apple quaking in its boots. ®