This article is more than 1 year old
SOCOM 4
Another banger?
Forward march
The technical cracks aren't limited to stealth sections either. The invisible triggers that progress scripting through regular levels are all too evident. Strict, linear paths are punctuated by action bubbles, where combat begins only after crossing a governing line, such as setting up an ambush or reaching a waypoint. Before that, you'll frequently see enemies blithely awaiting your cue, irrespective of your proximity or visibility. It's not a game-breaking flaw, but it constantly jars throughout. And it's one that requires constant restraint in SOCOM 4's co-operative mode.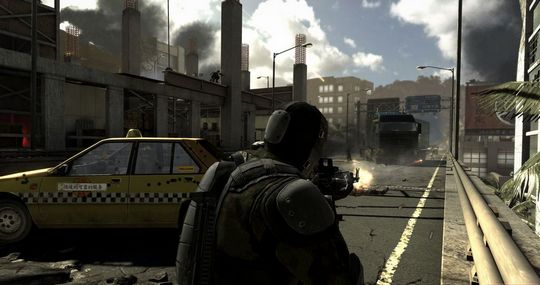 Get out the way, stupid trucker
With the five-man squad comprised of human players, strategic elements come to the fore. Flanking is more effective when driven by human intelligence, and reviving incapacitated comrades becomes essential for survival, as does judicious use of smoke grenades to provide cover.
Yet it's also easier to trip action cues before your team is ready, which proves fatal on the punishing higher difficulty settings. Good communication helps avoid blundering into a firefight, but loose cannons can instantly unravel studious preparations, especially when teamed with strangers.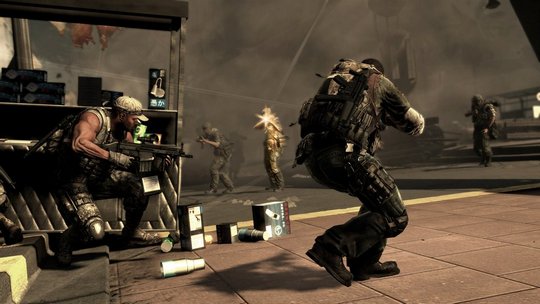 Shot a bit of smoke
Verdict
It seems a loose cannon has also wreaked havoc on the Playstation Network this past week, preventing me covering SOCOM 4's competitive multiplayer – while probably enjoying a two-week holiday in Bora Bora courtesy of my credit card! And so apologies if the mode affects my overall estimation. But the campaign and co-operative modes offer a decent - if flawed - take on the genre, one which won't win any awards for innovation or excellence, but might just sustain tactical shooter fans during the long wait for Ghost Recon: Future Soldier. ®
More Shooting Games Reviews

Crysis 2
Killzone 3
Bulletstorm
Dead Space 2
Homefront

SOCOM 4
A tactical shooter, light on innovation and weighed down by flaws. Available on PS3 only.