The iPad and iPhone are the most valuable and profitable devices available for your software-development business – at least according to Evernote CEO Phil Libin.
Presenting a wealth of figures about his company's sales, users, and upgrade rates at The Founder Conference in Silicon Valley, Libin revealed that Apple's iOS platform provides the most total revenue for Evernote, as well as the most revenue per developer hour and the largest number of new users per developer hour.
In other words, the iPad is the most profitable platform out there, topping Windows, Mac, Android, Blackberry – even the good ol' web itself. In fact, the web proved to be the weak sister. "Native platforms do a lot better than the web," Libin explained. "And web users are the least profitable on all levels."
Since Evernote provides a simple way for anyone to capture ideas, notes, pictures, and other various scribblings, the service has to work across all platforms since most customers use multiple devices to access their account.
iOS provides Evernote with 28 per cent of its overall revenue, with Windows next at 24 per cent. But the real payoff comes in "revenue per developer year" – i.e., how much the company earns relative to the amount of time it spends paying software engineers to make its product work. In this important metric, iOS led the field with $628,515 per developer year. Android came next with $420,290, and RIM's Blackberry sat at the bottom with $142,664.
Likewise, iOS provided 973,083 users per developer year. Android was number two with 656,640, and Blackberry again sat in last place with 142,668.
The only area where Apple's iPad doesn't come out on top is in revenue per user, where the outmoded Windows Mobile was number one. That aging OS's moneymaking success, however, is primarily due to the fact that the longer people use Evernote, the more likely they are to pay for it. After one month, just 1 percent pay for the Premium version, but after 36 months, that number jumps to 23 per cent – and the uptake rate is pretty much a straight line in between.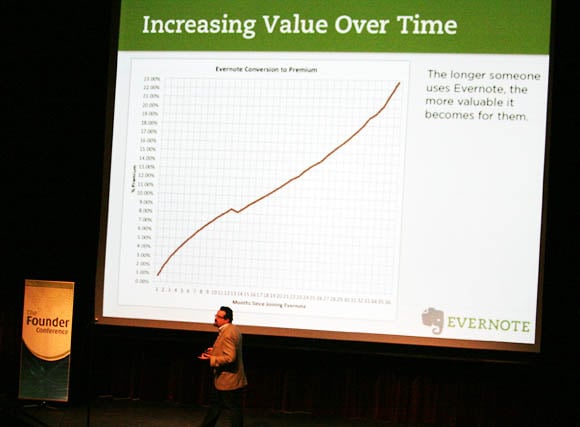 Evernote CEO Phil Libin explains that the longer someone uses his product, the more likely they are to upgrade
Telling the crowd that "this is the best time in the history of the universe to start a business," Libin also gave a passionate defense of the "freemium" model, in which a product is given away for free, but some users pay for a more capable version.
"In the old days you would spend a huge sum of money getting one million users – a sales and marketing team, a Super Bowl ad," he said. "But with the freemium model you spend that money building a product and giving it to people, and you end up with the same number of paying users."
In fact, freemium is a better marketing, sales, and distribution model, according to Libin, because at the end of the process you have a better product, a huge amount of feedback, and a massive customer base.
Libin closed by outlining the self-titled Libin's Law: "In a startup environment, you have to multiply Moore's law by Murphy's law: the number of things that will go wrong will double every year." ®