This article is more than 1 year old
Red Hat revenues pumped by partners
Getting by with a little help from the channel
Red Hat is ramping up to be the first billion-dollar open source baby, and more than anything else, the commercial Linux operating system and middleware distributor has its channel partners to thank for the growth.
Speaking at the Red Hat Summit today in Boston, Alex Pinchev, president of global sales and field marketing, didn't take credit for the company's steady growth, but instead gave most of it to Red Hat's reseller and OEM channel partners and the slew of independent software vendors that put their code on the Enterprise Linux operating system, its related KVM-based Enterprise Virtualization hypervisor, and JBoss middleware.
In a press conference going over today's launch of the OpenShift platform cloud and its CloudForms underpinnings, Pinchev said that Red Hat has amassed over 6,000 channel partners globally and that they account for between 60 and 65 per cent of Red Hat's aggregate revenues every quarter. In some geographical areas, like in the Asia/Pacific region, more than 90 per cent of the company's business comes through partners, not its direct sales force.
Red Hat has only 3,700 employees itself worldwide, and 1,000 of them are software engineers working on different aspects of the Red Hat stack. There is just no way that the company could chase every opportunity in the data center with so few people, particularly when it wants to span 180 countries. As it is, the Red Hat direct sales force has operations in 40 countries, but they are going after the biggest deals. For many years, Red Hat has aspired to get a 60/40 split between channel and direct sales, a feat it accomplished in its fiscal 2011 year ended in February.
Having reached the 60/40 split, But Pinchev is not satisfied. "I think the number will go to 70 to 75 per cent very soon," he said, referring to the portion of Red Hat's revenues coming from channel partners.
In the past year, channel partners saw double-digit growth across all of Red Hat's major product lines, and in fact, channel sales of Red Hat products are growing faster than the contribution of Red Hat's own direct sales force. Here's how the channel partners have grown their sales over the past several years: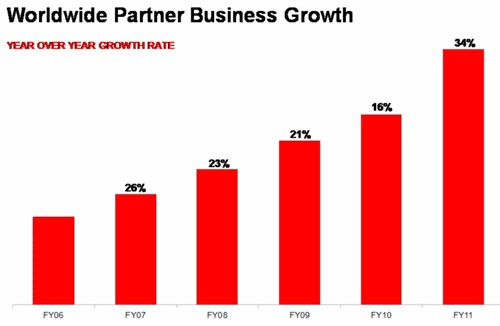 That growth is respectable, and perhaps even more impressive is the assertion by Pinchev that the top ten Red Hat resellers pushed over $20bn in products and services related to sales of Red Hat products in the most recent fiscal year. Now, to be fair, the Red Hat software and support is a small part of a lot of deals, but that is still a lot of revenue. And if you add in the other 5,990-plus partners that peddle wares with little fedoras on them, the numbers would be somewhat considerably larger.
Also helping the Red Hat cause are the more than 5,000 independent software vendors that certify their products to run on top of RHEL 4, 5, and 6 for x64, Power, and mainframe platforms.
Pinchev is proud of the multi-level, multi-route, global partner channel that he has been instrumental in building, which includes direct sales, Web sales, and OEM sales from Red Hat; distributor sales, who in turn sell support licenses to software vendors, system integrators, volume resellers, and tier two OEM customers. "It scales, and it is working," Pinchev declares.
And it is hard to argue with the numbers as Red Hat has been able to grow steadily for more than a decade, despite two or three recessions, depending on how you want to call them.
Then again, it may be the product, not the channel, that is doing the selling. Linux was the only credible alternative to Unix systems in the dot-com bust, and it runs on cheaper iron and costs considerably less because of this for any given amount of performance on a lot of workloads. (There are exceptions, and that is why RHEL also runs on Power and mainframe systems, and why it used to run on Itanium machines but does not starting with RHEL 6, announced last year.)
While Red Hat's top brass can take credit for letting their channel have the sales, IBM has had a higher percentage of its AS/400 and proprietary Power Systems sales coming from channel partners – and for a much longer time. (It used to run about 90 per cent for the entry and midrange machines in the middle of the last decade, the last time IBM gave out such stats.) What has made the RHEL platform a success is, well, success.
Ever since going public in 1999, Red Hat had the resources to not only develop a solid, enterprise-class operating system and then buy its middleware and virtualization tools, but to give enterprise customers the kind of financial comfort and global reach that Novell, Canonical, Mandriva, TurboLinux, and others could not do. Year by year, customer by customer, partner by partner, Red Hat became the safest choice for companies that didn't want to shell out for Unix systems and that did not want to run workloads on Windows.
When you are the safe bet during one recession, it is hard to fail. And when you are an even safer bet by the time the third recession rolls around, through good luck and hard work alike, it is hard for competitors to ever catch up. Just ask Novell. ®