This article is more than 1 year old
What treasures will the US really find on bin Laden's hard disk?
Rants? For sure. Porn? Maybe. Intelligence? Unlikely
Analysis Computers and digital media seized from alleged al Qaeda supporters in Britain, Iraq and other hotspots in the war on terror have generally not provided forward intelligence enabling governments to prevent and deter new attacks.
Hopes maybe high that the fruits of last weekend's assault on bin Laden's HQ's will yield an intelligence bonanza.
But to date, most of the disks seized from al Qaeda supporters are filled with near-identical, multiple bulletin board downloads of interminable ideological debates, tracts and sermons (fatwas) on subjects such as the Islamic "permissibility of self-sacrificial operations" (suicide bombing) and exhortatory tracts to "join the caravan" (of Jihad).
There are many nasheeds (Islamic chants, often sung by uber-popular religious popstars) and often also numerous videos of roadside bomb attacks, as well as footage lionising celebrations of the 9/11 and London bombers. Some computers include sets of possibly the dozen-or-so most gruesome horror reality videos ever made, each featuring the humiliation and ritual murder-by-beheading of victims from Daniel Pearl onwards.
A range of internationally distributed "terror manuals" and even a large and now multimedia "Encylopedia of Preparation" (for Jihad) contains material derived ultimately from US training manuals and decades-old hand-me-downs such as the once notorious The Anarchist Cookbook. Except for a small number of recent additions, particularly from Hamas in Palestine, most of the computer material about military and bombing operations has been neither tried nor tested.
"Operational" communications, directly relating to planned attacks, are more usually sent by courier than computer, or if they are electronic, go to internet cafes where plotters hope that traceable records will not be found.
In distinction, and contrary also to the severe cultural norms of Islam, a slim majority of hard drives collected in Britain or Iraq have been found to contain, in deleted browser records or wiped but not erased hard drive areas, evidence of browsing and viewing of porn sites. The computers of at least two of those accused of planning some of Britain's most serious offences of the past decade have even shown rather more interest in male than female images – ironic when contrasted to the hatefilled homophobic prose as well as severe imprecations against "immodesty" found in the undeleted parts of the same hard drives.
Osama bin Laden might be thought a bit past that sort of entertainment. But the body count from the raid on his home suggests more of a family retirement home than an operational terrorist headquarters – as well as an abiding interest in procreation. The people in the compound were: one OBL, one son, two building owners, one servant and one courier (all shot dead); and one young wife, eight OBL kids and one doctor (alive).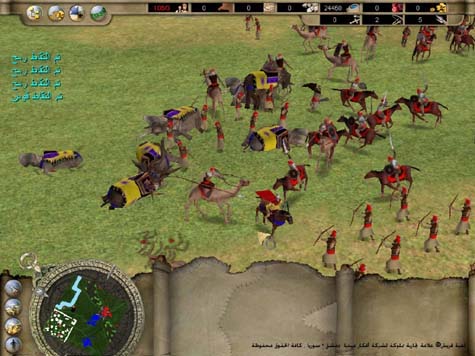 Quraish (The Gathering), is a real-time strategy game by Afkar Media. The game takes
place in pre-Islamic and early Islamic periods. It allows the player to control four
nations: pagan Bedouins, Muslim Arabs, Zoroastrian Persians and Christian Romans.
The last major occasion that invading western troops announced treasure troves was in Kabul in 2001. The only occasion that an electronic document from that trove was claimed to link to supposed terror attacks were pages of printouts of poison recipes that were supposedly also found in Essex. This "Kabul link" featured prominently in the publicity for the "Ricin Plot" trial of 2003.
The trial resulted in wholesale acquittals (there was in fact no ricin) and has been the subject of a recent book on "the plot that never was" by jury foreman Lawrence Archer. The significance of the ricin case, and the lack of actual real evidence for trial, was timing. It was held in the weeks leading up to the attack on Iraq.