This article is more than 1 year old
Elite coder readies £15 programming gadget for schools
PEEK in a POKE
The Raspberry Pi Foundation may sound like a school for aspiring bakers, but it aims to promote computer science by producing an inexpensive miniature PC called Raspberry Pi.
Games developer David Braben, famous for titles such as Elite and Rollercoaster Tycoon, is the project lead. And he wants to bring a £15 USB Flash drive-sized computer to schools to build an army of young coders keen to hack away in machine code.
The Raspberry Pi is provisionally specced to use HDMI for connection to a TV, USB for the keyboard, SD card for storage and to run Linux on ARM, with OpenGL ES 2.0 for the graphics. It is expected to include a 700MHz ARM11 processor and 128MB of memory.
Come on, David, don't hold back - while you're at it, give us a Basic interpeter too.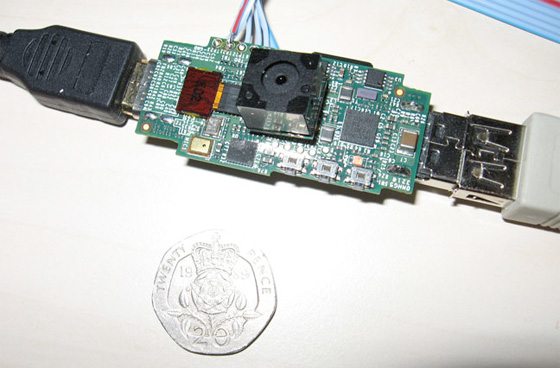 Braben argues in a discussion with the Beeb's technology correspondent that kids don't get enough under-the-bonnet experience - not like he did when he was a youngster coding games for the Model B.
Braben thinks that today's ICT classes lead to computing ignorance and merely prepares a student for an office job, rather than inspiring technical creativity.
Yes, UK educators would rather teach kids how to use Excel and such, apps the young 'uns will end up using when they leave school and take up exciting opportunities in the retail and sports-leisure sectors. A cheap machine of this ilk will encourage users to develop their programming skills, Braben says.
Cheap as a chip
It all sounds rather like a nostalgic cry for a lost 8-bit computing era to us - something we're guilty of indulging in ourselves, to be fair - through a device you connect to your telly and code on. This notion will be immediately and intimately clear to anyone who grew up in the early 1980s.
The UK's well-established videogames industry certainly hasn't suffered from this shift away from how we mucked about with computers as lads, and while there's something to be said for the skill require to code a chess program that will run in just 1KB of memory - Z80A machine code, targeted for the ZX81, natch - it's arguably one that's less relevant with today's multi-megabyte machines.
Still, we applaud Braben's efforts, not only for coming up with a system to enthuse a new generation of geeks - and to gladden the hearts of us old ones - but to do so so cheaply and with an emphasis on education.
Braben is not short of a bob or two, and we'd suggest he hands out his 15-quid computer as a philanthropic exercise, a kind of hardware example of the very excellent and worthwhile online education service, Khan Academy.
As it stands, Raspberry PI needs a better prototype and proof that it can be built for £15. Only then can it approach the education sector with a view to have Raspberry Pi handed out to students.
As it is a non-profit project though, Raspberry Pi Foundation says it hopes to sell the system for cost-price, so our future kids can get one with pocket money, should they so wish. ®