Intel keeps heat on AMD with Tri-Gate transistors
Don't count that Bulldozer market share just yet
---
Can a 32 nanometer Bulldozer jump a 22 nanometer Tri-Gate transistor to cross an Ivy Bridge? In 2012, we're gonna find out.
Advanced Micro Devices and its foundry partner, GlobalFoundries, are just ramping up production on 32 nanometer wafer baking processes, in theory catching up to Intel, which has had 32 nanometer processes in production in late 2009 and shipping to end user customers across PC and server chips since early 2010. AMD's plan – or more precisely, the plan after AMD rejiggered its deal with GlobalFoundries to motivate its former foundry to focus on chip yields for the 32 nanometer fabbing in its Dresden facilities – is to get the 32 nanometer processes ramped up first on desktop and laptop PCs with the "Llano" APU (which combines the CPU and a GPU on a single die).
Then, comes the first chips using the "Bulldozer" cores, specifically the sixteen-core "Interlagos" Opteron processors two-socket and four-socket servers sporting the G34 sockets. These will ship for revenue in the "late summer" with products shipping from vendors in the third quarter.
AMD is ramping up 32 nanometer processes and a new chip design, but Intel is already gearing up to start production on its 22 nanometer process and its related Tri-Gate 3D transistor, the combination of which looks to give Intel a greater advantage in performance and power efficiency than many had been expecting from the chip giant's shrink to 22 nanometers.
The Tri-Gate transistors that will be implemented in Intel's its 22 nanometer "tick" for its "Ivy Bridge" family of processors, which are themselves tweaked versions of the "Sandy Bridge" Core PC and Xeon server processors that are a "tock" in that they implement a new microarchitecture. Intel changes the design in one generation, then the process in the next, like an old grandfather clock, ticking and tocking. Intel didn't make any promises about performance or thermals at the processor level, but the specs for the transistors themselves are certainly making everyone think Intel is about to make a big leap here, taking away another advantage that AMD could use to peddle its processors.
In a briefing earlier this week, Mark Bohr, director of process architecture and a Senior Fellow at Intel, said that the properties of the Tri-Gate transistor offered a factor of ten reduction in current leakage compared to a 22 nanometer transistor implemented in the 2D (or planar) transistor designs used in the industry for decades. From the graphs that Bohr showed, that 22 nanometer planar design would yield about 15 per cent faster transistor switching at 1.0 volts and maybe 10 per cent at 0.7 volts.
But adding the Tri-Gate transistor allowed Intel to boost gate switching on the transistor by 18 per cent at 1.0 volts and by an even more important 37 per cent at 0.7 volts. The net effect of this is that a transistor running at 0.8 volts using the 22 nanometer Tri-Gate transistors has the same performance as a 32 nanometer chip running at 1.0 volts, and with a 50 per cent reduction in active power. And the process, which Intel is convinced it can do in high volume manufacturing, only adds 2 to 3 per cent to the cost of a wafer.
Chew on that for a while.
Intel is working to put the 22 nanometer processes and their 3D gates into production in the second half of 2011, about when AMD will start bragging it has 32 nanometer chips in the field from GlobalFoundries. The process will be used first in an Ivy Bridge chip, shown below, and the word on the street is that the very first chip will be a variant of the Xeon E3 processor for high-end workstations and low-end servers.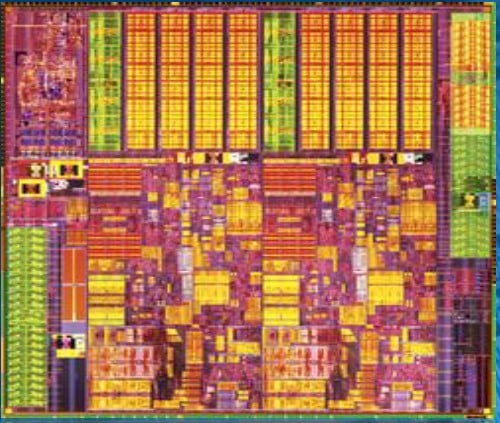 Unidentified Ivy Bridge processor using 22 nanometer Tri-Gate transistors
Intel showed off some desktop and laptop machines using early Ivy Bridge chips. The PC roadmap calls for Intel to put Ivy Bridge Core chips into the LGA 1155 socket and pair them with a chipset called "Panther Point". The desktop PC platform is code-named "Maho Bay" while the mobile platform is called "Chief River". Further details were not divulged.
Intel did not share any server processor roadmaps this week in making the announcements, except to say that the Xeon variants of the Ivy Bridge chips would certainly use the new 22 nanometer process, too. The analyst community got a little bit more data, as you can see below, but not a lot:
As you can see, Intel will be finishing up the Sandy Bridge Xeon rollout using its 32 nanometer processes, as well as sticking with 32 nanometers for the future "Poulson" Itaniums. The new data here is not that the Ivy Bridge Xeons will use 22 nanometer processes, but that the future "Kittson" Itanium chips will as well. And so will the future "Knights Corner" family of many-cored co-processors that Intel hopes to commercialize before AMD and Nvidia take complete control of the co-processor racket with their GPU co-processors.
On the Atom front, the Intel has been quiet, but obviously with the Tri-Gate transistors and the 22 nanometer shrink, Intel should be able to field more power-efficient, low-end Atom parts that are more suitable for smartphones, tablets, and consumer electronics. It should also be able to create Atoms that have more oomph in the same power envelope – perhaps a lot more, like twice as many cores or a significant jump in single-thread performance.
It remains to be seen if these future Atoms based on Tri-Gate/22 nanometer technology will be able to take on the ARM collective, however. And even if the future Atoms don't hold out well against the Cortex-A15 derivatives due in late 2012 or early 2013 for tiny computers, they may nonetheless be a boon for micro servers. ®