This article is more than 1 year old
Climate Change 'wise men' recommend more nukes, power cuts
Some things don't just add up
When we last met the Climate Change Committee – the statutory advisory body of "wise men" that makes global warming policy recommendations for the UK – they were urging politicians to make red meat an expensive luxury. If beef or lamb were as expensive as truffles are today, they suggested, we could save the planet from runaway global warming. This time, they're back to report on energy, with a particularly rosy set of numbers that doesn't quite add up.
Some of the recommendations will make Greens feel uncomfortable – particularly those Greens with a financial or emotional attachment to wind power. But the Puritan agenda we saw before remains. To make energy supply and demand meet, the "wise men" note, there will have to be power cuts.
"There is an issue about how the system copes with intermittent renewables (ie, keeping the lights on when the wind does not blow). Our analysis suggests, however, that a high level of intermittent renewable generation is technically feasible, as long as options for providing system flexibility are fully deployed."
This isn't some paranoid fantasy from a lone blogger. The elites have already been softening up the population to prepare for cuts for some time.
"We need to balance demand for energy with supply," says Steve Halliday, CEO of the National Grid. "That gets into smart metering, so if we need to interrupt power supply for a few hours during the day when you're not at home that's okay," he told The Telegraph last year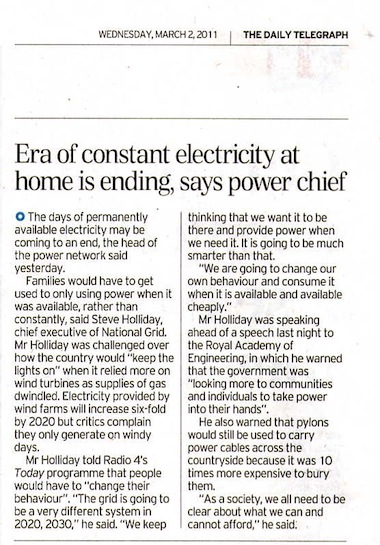 Softening up the public
In a a recent speech, Halliday said: "We are headed for a greater diversity in electricity generation coming from a much greater geographic spread. We have to plan for flexibility in the system to manage more intermittent energy flows because a large share of our energy will rely on when and where the wind blows."
But what the Climate Change Committee delivers is that rarest of things: a cost-benefit analysis of low-carbon energy production. And as in any cost-benefit analysis, the expensive, inefficient technologies such as wind power come out very poorly.
"Nuclear appears likely to be the lowest-cost low-carbon technology with significant potential for increased deployment; it is likely to be cost-competitive with gas CCGT at a £30/tCO2 carbon price in 2020. As such, it should play a major role in decarbonisation, provided that safety concerns are addressed," they recommend.