It has been more than a year since Advanced Micro Devices got its "Magny-Cours" Opteron 6100 processors to market, and server makers are still rolling out new form factors of machines that make use of the twelve-core x64 chips. It's Dell's turn, with a hefty four-socket blade that packs the kind of memory expansion hypervisors expect on the machines that they assume control over.
The PowerEdge M915 is the Opteron companion to the M910 blade server that Dell announced back in April 2010 sporting Intel's eight-core "Nehalem-EX" Xeon 7500 processors. The M910 can also use Intel's latest "Westmere-EX" Xeon E7 processors, which were announced in early April of this year sporting ten cores and which are socket compatible with the Xeon 7500s. The M915 uses AMD's G34 socket, and will be able to support the future sixteen-core "Interlagos" Opterons when they are delivered by Intel's rival in the third quarter.
Both the existing M910 and the new M915 sport 32 DDR3 main memory sockets, offering up to 512GB of main memory capacity. The Intel variant could put up to 32 cores and now 40 in a single system image, while the AMD variant can cram as much as 48 cores. Intel has HyperThreading on its cores, so if your workload makes good use of Intel's implementation of simultaneous multithreading, then that gives Intel the advantage over AMD. But, then again, AMD's chips are a lot less expensive than the E7s, which range in price from $2,837 to $4,394 each when bought in 1,000-unit quantities with ten cores running at between 2GHz and 2.4GHz.
In February, AMD pushed up the clock speeds a bit on the Opteron 6100s, and its top-end standard watt part for four-socket machines, the Opteron 6176, runs at 2.3GHz and only costs $1,265 each when bought in 1,000-unit trays. The other twelve-core parts range in speed between 1.9GHz and 2.2GHz and cost between $744 and $1,165.
The wonder is not that Dell has launched the M915 blade, but rather what took so long, given the considerable price/performance AMD is demonstrating at the socket level.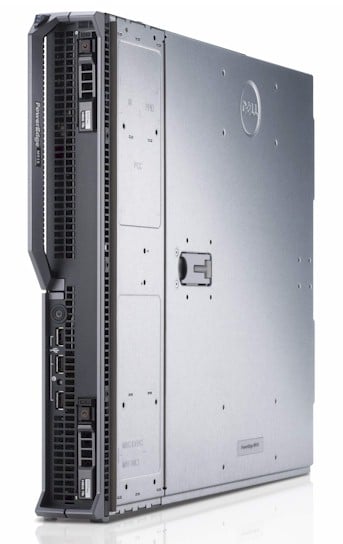 Dell's PowerEdge M915 blade server
The PowerEdge M915 is a full-height, single-width blade server that slides into Dell's M1000e blade chassis. Up to eight of the blades can fit into a single 10U chassis. At the moment, Dell is only supporting up to 16GB DDR3 memory sticks in the M915 blades, but Rob Bradfield, marketing manager for blade products at Dell, tells El Reg that when the Interlagos Opterons are available later this year, the company will support fatter 32GB sticks in the blade, thereby doubling memory capacity up to 1TB.
For the typical customer using fat x64 nodes to run lots of virtual machines, 4GB per VM is the average setup customer's use, according to Branfield. And so putting 256GB of memory on the box (using 8GB memory sticks) would give customers a little more memory than they probably need per VM and set it up to be balanced with the future sixteen-core Interlagos chips. (That would be 64 cores and 256GB of main memory.) Customers supporting databases on the blades would probably be smart to buy 16GB sticks and only half populate the slots, leaving themselves expansion room both through processor upgrades and memory additions.
Right now, Dell is charging $39 per GB for both the 8GB and 16GB sticks used in the M910 and will charge the same on the M915, so there is no reason not to use the fatter memory sticks no matter what. If your workload doesn't need a lot of memory, 4GB sticks are selling for $21 per GB, so you can load up an M910 or M915 with 128GB for $2,696. That's only 2.7GB per core for a VM that is tied to a single core, and that might be a little bit skinny. But the memory outlay is $2,696 instead of $10,010 for 256GB using 8GB or 16GB sticks. Plenty of people will no doubt try to get by and not spend that extra $7,314 on doubling up the memory. You can use 1GB and 2GB memory sticks if you want, too.
At this point in the x64 processor racket, CPU core density and memory density are not the problem, says Bradfield; I/O density and bandwidth is. That's why the PowerEdge M915 has two network daughter cards that can each cram up to six Gigabit or 10 Gigabit Ethernet ports onto a single blade. These network cards are different from the mezzanine cards on the blades that can allow for other Ethernet or InfiniBand adapters as well as Fibre Channel adapters to hook onto the blades.
And with the new network daughter cards and mezzanine cards based on Broadcom's "Trident+" ASICs, Dell is allowing network administrators to partition each network interface into as many as four virtual connections, allowing the fat NICs to be carved up cross virtual machines running atop the hypervisor. That gives you up to 24 virtual ports on a fully loaded M915 blade server, which maps to a fat two-core VM perfectly if that is what your workload requires. Other network cards for the PowerEdge blades using silicon from Intel and others will eventually have this virtual NIC capability, says Bradfield.
The PowerEdge M915 server is based on AMD's SR5670/SP5100 chipset. It supports up to two 2.5-inch SAS disk drives or solid state drives; the fattest disks from Dell supported on this blade weigh in at 1TB each. Dell's PERC H200 SAS/SATA controller is on the blade, and it supports the battery-backed PERC H700 controller as well, which sports 512MB or 1GB of cache. The blade also has an iDRAC 6 service processor to allow the M1000e chassis to manage it. The blade also has redundant embedded flash drives
Dell is supporting Microsoft's Windows Server 2008 SP2 and R2 releases on the M915 blade as well as HPC Server 2008 R2; Novell's SUSE Linux Enterprise Server and Red Hat's Enterprise Linux are supported, but precise release levels were not available at press time.
Dell is taking orders for the PowerEdge M15 now and will start shipping the machines on May 24. Pricing has not been set for all the features on the blade, but Bradfield said the target entry price of the bare-bones M15 with two Opteron processors, 4GB or memory, one network daughter card running at Gigabit Ethernet speeds, and no disk would run about $3,500. ®