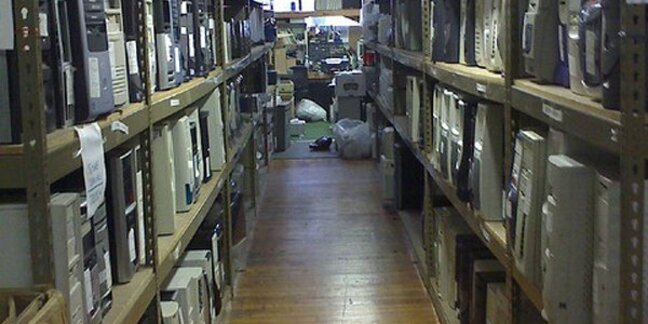 HP is taking its networking fight with Cisco Systems out of the data center and into corporate campuses and branch offices.
Cisco has made a fortune – maybe several fortunes – selling multiple-tiered Layer 2/3 networks that span data centers, campuses, and branch offices, and the company's rivals are trying to flatten and simplify those networks to steal business away from a Cisco that has been distracted by its entry into the server and consumer markets. The Networking division of IT giant Hewlett-Packard, bolstered by its acquisition of 3Com, is one of the Cisco rivals that wants to take a piece out of Cisco's hide. Or rather, fabric.
At the Interop networking trade show in Las Vegas today, HP is announcing a new lineup of A Series campus core switches that hook into its recently upgraded line of E Series modular access switches and wireless access points to create a campus-wide fabric that is, say HP executives, flatter and cheaper than the way Cisco wants customers to build their networks.
"There's too many layers," Mike Nielsen, director of solution marketing at HP Networking, tells El Reg. "There are three layers in the data center network because Cisco told us to do it that way. There are three layers in the campus network, and that's too many."
The big complaint is the three tiers of the network: the core switching, the distribution tier, and the access layer. Sometimes you need those three tiers, but sometimes you do not. According to research by HP, there is about $1.5bn in "stranded capital" globally wasted in the distribution tier and maybe another $1bn in the access tier that is the result of bad network design for campus networks.
To help flatten out the networks, HP has cooked up the A10500 core campus switch, which allows customers to get rid of the distribution tier, hooking the A10500 core switch directly into the E5400 and E8200 access switches to build out a campus network.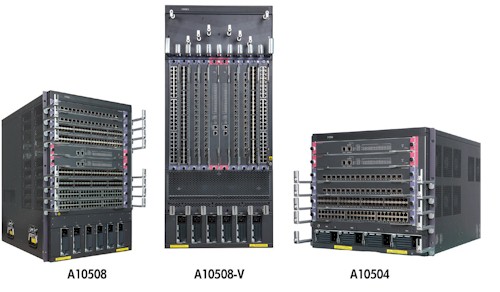 HP's A10500 Series campus core switches
There are three A10500 models, and they borrow technologies that are used in HP's A12500 data center core switches and the A7500 line of campus switches. The A10504 is the entry machine, and the A10508 and A10508-V are the big bad boxes that mount the networking I/O modules either horizontally or vertically in the chassis.
The A10508 has a backplane that packs 5.75Tb/sec of bandwidth and has 1.28Tb/sec of switching capacity; it has a packet-forwarding rate of 960 million packets per second. It comes with two engine slots, four vertical fabric module slots (in the back of the chassis), and four horizontal I/O line cards (in the front). It can be configured with up to 192 Gigabit Ethernet ports or up to 64 10 Gigabit Ethernet ports. The machine has three 2,500 watt power supplies plus one spare in a standard configuration. The 10GE modules come in 4, 8, or 16 port flavors using XFP or SFP+ cabling, or 24 and 48 port variants using XFP or SFP cabling.
The A10508 and 10508-V basically double up the networking capacity. These boxes have two engine cards and have a backplane that delivers 11.52Tb/sec of bandwidth, 2.56Tb/sec of switching capacity, and 1.92 billion packets per second of forwarding capacity. The bigger A10500 core campus switches have four fabric slots, just like the smaller model, but have eight line cards for a maximum of 384 Gigabit ports and 128 10GE ports. This unit also has five 2,500 watt power supplies plus a spare.
HP says that the port-to-port latency on the A10500 core switches is around 3 microseconds. You can gang up to four of the A10500 chassis together (burning some of the ports for interconnection) to create a 1,440 "super core" switch. And the switch chassis have enough bandwidth that they can support future 40GE and 100GE line cards, when they become available.
Nielsen says that the A10500 has 3.7 times the 10GE port density of Cisco's Catalyst 6509 core switch in full-on configurations, and offers 75 per cent lower latency and 3.5 times the switching capacity. And the E5406 access switch, which is paired with the A10500, offers sub-3 microsecond latency – 90 per cent lower than Cisco's Catalyst 4506 access switches – with 128 per cent higher port density and 35 per cent lower energy consumption.
HP will start shipping the A10500 core campus switches in the second half of this year. Pricing was not announced.
In March, HP rolled out three E-Series wireless access points, which complete the network picture. These wireless access points pack two radios and offer 450Mb/sec of bandwidth, which is three times what you get on a typical home Wi-Fi router and 50 per cent better than the typical enterprise-class access point, according to Roger Sands, director of wireless networking at HP. These wireless access points were developed by HP ahead of the 3Com acquisition, by the way, and the company is cooking up devices that provide 600Mb/sec of bandwidth in the future.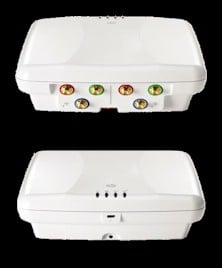 HP's wireless access points
The E Multi Service Module (MSM) 430 is a dual-radio access point with two spatial streams. It costs $699. The MSM460 and MSM466 each have two radios, but have three spatial streams for better wireless fidelity; they cost $999. The MSM430 runs at 300Mb/sec with two streams while the MSM460 and MSM466 run at 450Mb/sec with three streams. The MSM430 and MSM460 share the same packaging (on the bottom in the picture), while the MSM466 (shown on top) has ports to plug into a number of different antenna options and operates both radios in the 5GHz band. The MSM430 and MSM460 each have one radio running at 2.4GHz and the other running at 5GHz.
In addition to the new core campus switches and wireless access points, HP is rolling out Intelligent Management Center 5.0, a tool that comes from 3Com that is used to monitor and manage HP's own networking gear as well as that of Cisco and other networking equipment makers. More importantly, says Nielsen – who used to work for Cisco – HP is offering one tool where Cisco has 28 different tools spanning its products. IMC 5.0 federates network management and server orchestration and converges both physical and virtual network management, all from the Holy Grail of a single pane of glass.
IMC can manage wired and wireless networks from the core to the access layer, and it can be used to initiate virtual machine migrations by hooking into hypervisors and their APIs or it can watch a virtual server move and then make sure that its network follows along with it reactively. With IMC 5.1, which will be available by the end of the year, the tool is being integrated with HP's VirtualConnect virtualized network fabric and switching for its BladeSystem blade servers, so it can work in concert with that blade machine's automated server provisioning.
IMC 5.0 supports 2,600 different networking devices across 35 different manufacturers – and over 1,000 of those devices that it can manage have a Cisco brand slapped on them. "A lot of people start out buying IMC and then only later buy HP networking devices," says Nielsen. This is probably the kind of thing that will get new HP president and CEO Leo Apotheker giggling while rubbing his hands together. IMC 5.0 costs $6,995.
In addition to the new core switches and updated IMC software, HP is rolling out reference architectures for fabrics in the data center, which HP calls FlexFabric, and is gearing up to do the same for campus-wide networks (FlexCampus) and branch offices (FlexBranch). The idea is to have one set of software tools to manage physical and virtual networks across data centers, campuses, and branch offices while at the same time flattening out networks by eliminating the distribution tier wherever possible.
"We think we are the most credible alternative to Cisco in the market today," says Nielsen. "We are the challenger and we think we have a better way to do things." ®
Sponsored: Webcast: Discover and secure all of your attack surface