This article is more than 1 year old
Motorola Xoom
A slab of 10in Honeycomb goodness
Card trick
You switch the device on using a recessed power button at the rear. Unless you want to keep turning the tablet over to look, this means you have to find the power button by touch alone, which is occasionally annoying. On the other hand, its location and design make it difficult to press by accident, such as sliding in or out of a sleeve or jostling around in your bag.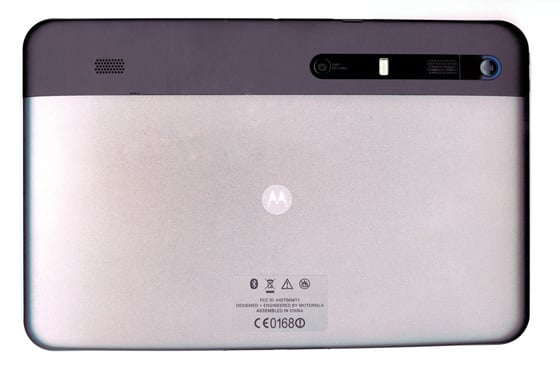 Fondleslab: you soon get a feel for the power button's location
Hardware connectivity, over and above the usual Wi-Fi and Bluetooth essentials, is not too shabby, with pair of a mini USB and mini HDMI ports, but no Ethernet.
Motorola likes to play the tease by fitting a non-working micro SD slot into the top edge (when the tablet is held landscape). The company is promising to issue a software release that will enable the slot at some unspecified point in the future. At the moment, though, there is no option for memory card expansion on the Xoom.
Switched on, the Xoom is a lovely tablet to use, and its Android 3.0.1 operating system seems to live up to its promise as being large-screen-friendly. I experienced no obvious glitches; in fact, the visual performance is notably smooth with responsive sweeps and soft transitions. A couple of apps downloaded from the Android Market managed to crash during testing, but neither required a system restart.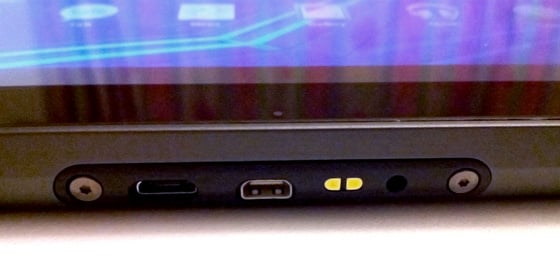 Mini USB, HDMI out and mains-in ports are ranged along the bottom edge, when held in landscape
A good collection of apps are installed as standard, including an e-mail package, music player and video editor, along with Google's mapping, web browsing and Gmail interfaces. Adding and editing home screen widgets, app shortcuts and wallpapers is really easy. The Android Market looks good on this size of screen too.