This article is more than 1 year old
Motorola Xoom
A slab of 10in Honeycomb goodness
The Little Picture Show
Video playback is slick, not least through the YouTube app with its 360-degree scrolling clip browser. Load up a high-quality MP4 movie and it looks pretty damn gorgeous on the Xoom.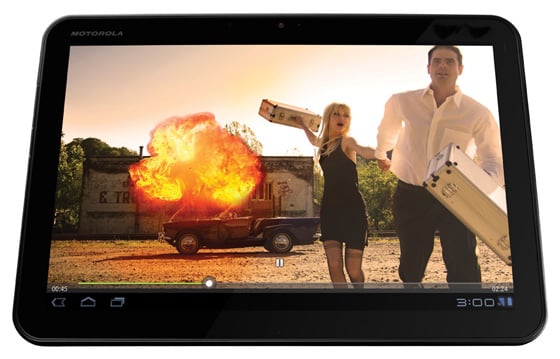 You can watch widescreen-format videos with less letterboxing than on an iPad
Motorola claims 1080p HD video decoding/playback on the Xoom. And although 720p viewing makes logical sense with the Xoom's 800 pixels in depth, not all 800 pixels are actually available to video. Rather than building Android navigation buttons into the unit, as other manufacturers have done with their tablets, Motorola has opted for an on-screen navigation bar, occupying 46 pixels that can never be recovered.
This means the Xoom's effective screen area is not 1280 x 800 but 1234 x 754, so 720p content at 1280 x 720 won't be full screen after all.
Front and rear cameras make the tablet a usable video chatter with GoogleTalk or Skype, although don't expect high quality video here. You can also use the rear camera to turn the Xoom into a ludicrously big camera or video camcorder in its own right. Still image mode is supported with a flash. Video can be captured at 720p HD.
Now this gets interesting. I can capture some video clips, albeit looking silly while I'm doing it, immediately edit them on the tablet itself (the video editing app is included free, remember), and play the results back on a TV directly from the Xoom via HDMI. I did, however, need to buy the necessary HDMI cable separately.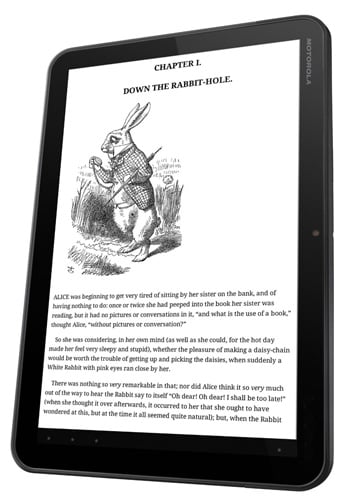 As with other 10-inch tablets, the Xoom makes an uncomfortably heavy e-book reader
Here's another niggle. Brilliant though the touchscreen and its sensible on-screen keyboard are, I found it difficult to touch very small objects accurately, such as links on zoomed-out web pages. For some reason, the Xoom detects my touch a couple of millimetres further down the screen. Either this is an optical illusion that other manufacturers already account for but Motorola hasn't, or the touch sensitivity of the Xoom is very slightly off.
Or perhaps I need slimmer fingertips.