Peril Sensitive Sunglasses - The Hitchhiker's Guide to the Galaxy

The world is dangerous. Terrorists lurk behind every curtain and paedophiles linger at the bus stop. Eating food gives you cancer, and teenage delinquents wait in every park ready to stab you over a mobile phone. Welcome to England. As the Daily Mail describes it, at least. Wouldn't it be great to not worry about any of that stuff? A pair of Joo Janta 200 Super-Chromatic Peril Sensitive Sunglasses would be the solution. At the first hint of trouble, they turn totally black and prevent you from seeing anything alarming. Those "look out" moments will be prevented by.. not looking out.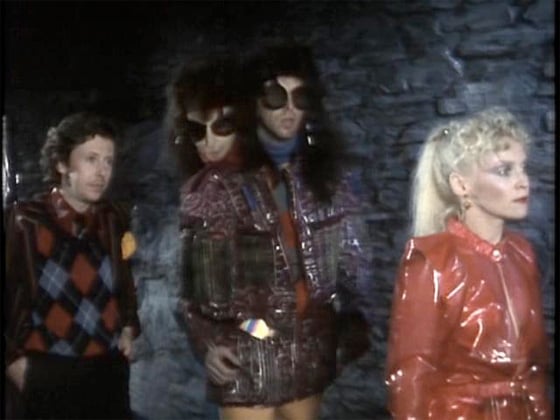 Douglas Adams' Hitchhiker's Guide to the Galaxy throws up some schweet pieces of fantasy tech. While an honourable mention should go out to the Babelfish for being the mack daddy of translation tools, the Peril Sensitive Sunglasses were always my favourite. How I long for something to wipe the grim look off paranoid faces of a population terrified by tabloids. I'll keep my fingers crossed. Maybe they could even come free with Saturday's Telegraph. Oh the irony.
In reality, such sunglasses will probably never come to fruition and if they did, it's probable that Sony has already got a patent on them. This year we saw the billboard-blurring Adblock shades appear as an April Fools Joke. Such specs are a fantastic concept that will unfortunately remain a fictional dream for years to come.
Then again, did you ever wonder why Ray Charles always looked so calm? Yes, it could have been the heroin, but I'll go with my gut on this one. Peril Sensitive Sunnies. You know it.
Commercial possibility 10%
More info BBC
Personality glasses - Joe 90

If you're discontent with your personality, perhaps you should invest in a pair of these? Or at least keep dreaming of the day they're invented. With a pair of Joe 90 glasses on, you may have little choice but to look like a cross between Ronnie Barker and Arthur C Clarke, but you would be able to match the skills of anyone you wished.
A machine called the BIG RAT, aka Brain Impulse Galvanoscope: Record And Transfer, takes the knowledge - captured from brain patterns of various experts - and transfers it to the mind through special spectacles, bringing the skills to anyone who wears them.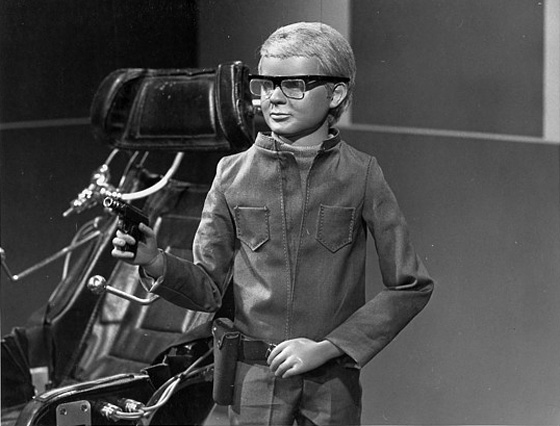 The idea ties in with the concept of implanting memory, another training method seen in various later movies from Brainstorm to The Matrix. It's the sort of experiments that are probably happening right now at Guantanamo, or a highly-secretive underground base in Dulce, New Mexico.
Derren Brown appears to have mastered the art of MKUltra mind-f**kery, coercing the brain into believing false memories. However, to deceive the brain with a computer chip, or even a pair of glasses is a whole next kettle of fish.
If the mind can be misled into believing an ability, could it still achieve without the actual experience? If my brain truly convinced itself, could my feet kick a ball like Lionel Messi? Without getting bogged down in quantum physics and questions of reality, it seems the future is very clouded on this. If it was possible though, how many of us would actually want to be modified with manufactured memories? I suspect that like Joe 90, such glasses would certainly have some strings attached. Yes I'd want the skills, but without the hard work in attaining them, it just wouldn't be the same.
Commercial possibility 20%
More info Joe 90