Telepathic Lens - The Lensman series

Trying to read someone's future is so boring - I don't know what people see in crystal balls. Mind reading is so superior. Which is why I want the Lens, a telepathic device from the planet Arisia found in Edward E. 'Doc' Smith's Lensman series.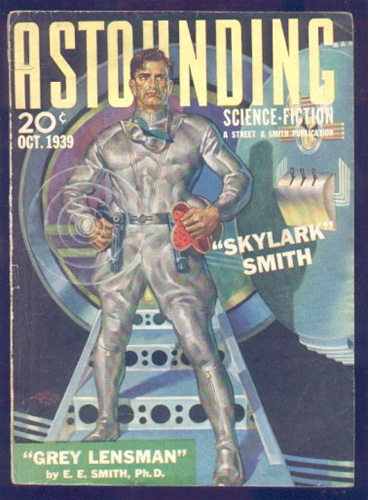 The Lens bridges the gap between all alien life-forms, providing multi-lingual speech and mind-reading abilities. This planet could really benefit from such a tool. Guilty verdicts would be delivered instantly in court; nobody would dare cheat on their spouse; and all of mankind would live in harmony without a single bad thought in their head. Well, maybe not. In all likelihood, women would be reminded every seven seconds what us men are really thinking about, so security measures would need to be taken. Then again, only one woman could become a Lensman, so if we're being true to tale here, such perversion wouldn't be a problem. However, a 'Thought Screen' would still be a necessary peripheral, to block mind-hack attempts.
Unfortunately, the possibility of a mind-reading device is rather slim - a shame because I could really do with the extra cash from cheating at poker. We can measure blood pressure and tell when someone is lying, but we can't tap into their thoughts exactly. Nor can we solve war through the power of mind reading. In fact, the Lens would probably be used as a tool in war, rather than one to prevent it. Unthinkable huh?
Teleportation belt - The Tomorrow People

Teleportation - you didn't seriously think we'd leave this one out did you? Who in their lifetime hasn't thought about the convenience of jumping from A to B instantaneously to avoid an inconvenient drive or rainy walk home? It's another concept that people have been dreaming of for years. Even the genie in Aladdin could teleport.
The famous 1970s TV show The Tomorrow People featured such a power too. With the help of super computer TIM, the Tomorrow People could teleport long distances, providing they wore a special 'jaunt' belt. How much would one of those fetch at Sotherbys?
The idea of teleportation was probably more popularised through the Star Trek transporter device that brought us the classic phrase, "Beam me up, Scotty". But how could we fail to mention a race of people called "Homo superior"? They just don't come like that anymore. Ooh er.
The earliest story to depict teleportation was Edward Page Mitchell's 1877 tale The Man Without a Body, in which the protagonist transmits his atoms over a telegraph wire, only for reassembly to be cut short by a battery outage. Other hat tips go out to Buck Rogers in the 25th Century's elevators, the bracelets in Blake's 7 and Red Dwarf's Matter Paddle.
The idea may be a common one, spanning every corner of pop culture, but it remains a near impossible task. Teleportation has only been achieved at a quantum level, where the original object being teleported has had to be destroyed in the process. Theoretically, a long way into the future, living organisms could be dematerialised and rebuilt, but its a very risky procedure that would more than likely result in death. Or your head being replaced by that of a fly. Not nice either way. ®
Commercial possibility 10%
More info IMDB
Sponsored: Ransomware has gone nuclear