Microsoft Skype: How the VCs won and Ballmer overpaid
Is Skype his next aQuantive?
Analysis A trio of Silicon Valley venture capitalists have made out handsomely from Microsoft's $8.5bn purchase of Web 2.0 carrier Skype. The money men have earned themselves $6.6bn in cash selling the unwanted web-telco company that they bought a $1.9bn stake in from eBay, while dodging the pain, paperwork, and inevitable disappointment of an IPO.
Skype has done fabulously well, too. Its new owner delivers to Skype's executive team a wealthy patron who will fund and share in the adventure of searching for a successful business model. It'll do so while being spared a corporate borging, because for the first time in Microsoft's history, the acquired company will become an entire corporate unit rather than merely get swallowed.
Unlike other acquired CEOs, Skype chief executive Tony Bates won't get lost somewhere in Redmond, merely reporting to some division president down the food chain. He becomes the new Skype group's president, reporting to just one person: Microsoft chief executive Steve Ballmer.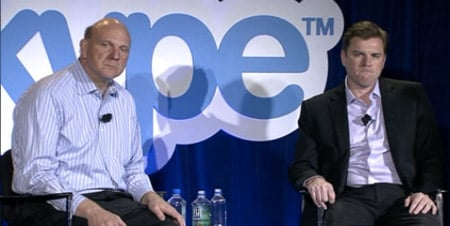 Steve Ballmer and Tony Bates: who's the big man now?
Oh, if only Microsoft's previous biggest acquisition, aQuantive, should have received such an outpouring of love. Having lost DoubleClick to Google, Ballmer in 2007 coughed up $6bn on diversified ads and media shop aQuantive, saying it would take Microsoft ads to the next level.
It didn't. Despite having more employees than Skype – 2,000-plus versus 318 at last count – and more actual customers paying actual money for actual services, aQuantive got messed around with and kicked into becoming Microsoft's advertising arm. Its staff ran – and years later, Microsoft is still making just a fraction of the online-ads money that Google rakes in.
This must have been in the back of Wall Street's mind, too. Microsoft's stock remained largely unmoved while the news of the largest deal in the company's history was announced and digested on Tuesday, with shares finally trading down for the end of the day – though well under 1 per cent down.
So what exactly has Ballmer placed his faith in by spending $8.5bn in cash for a substantially smaller company than aQuantive with a less-defined business?
And what about the pawns in this whole deal, Skype's 170 million customers, who – as is true in most Web 2.0–type acquisitions – provide the service its perceived value?
Many customers don't pay a penny for Skype, so they offer Microsoft no direct revenue opportunity. Many aren't even running Skype on Windows, but instead talk or video chat using Mac and Linux or Skype on their iPhone or Android phones. Not only are these people not Microsoft customers, they may even have gone out of their way not to use Microsoft products.
Taking questions about the deal on Tuesday morning in San Francisco, Ballmer and Bates talked a lot about "optimizing" and developing Skype for Microsoft's Xbox, Kinect, Outlook, Hotmail, and Lync realtime-communications server.
Microsoft's priority is selling the Windows operating system, and its track record of putting any of its applications on anything other than Windows is less than stellar, to say the least.
Ballmer tackled concerns about Skype's future on Mac and Linux early on, saying that Microsoft is "committed" to the Skype user base "today and into the future". Part of that means continued growth in investments in non-Microsoft platforms, Ballmer said.
Pressed, Ballmer responded: "I said it and I mean it." Well, now we know to whom to turn if and when features for Skype on Mac, Linux, Android, and iOS fall behind, as Skype for Windows or Windows Phone is optimized for what Microsoft likes to call a "great user experience".
"We will continue to support non-Microsoft platforms because it's fundamental to the value proposition of communications," Ballmer told the press. "We love Windows and we love Windows Phone and the Xbox, and we are going to do all of the work together to optimize these ... but fundamental to the value proposition of communications is to reach everybody whether they are on your device or not. In fact it will be one of our competitive advantages," he said.
Ballmer tried to point to Microsoft's track record in supporting non-Microsoft platforms, but could come up with just a single example: Office on Mac.
This may be the biggest reason that Microsoft has decided to keep Skype as a separate division rather than slot it into one of its existing units – Office or Online, for example. Separation could help insulate Skype from Microsoft's roadmap, product, and marketing decisions that would tie it tighter into Windows at the expense of non-Microsoft platforms. Microsoft's biggest excuse for not putting apps such as Silverlight on other platforms has been its constrained resources.
As its own unit, Skype's engineers and product people could conceivably continue working with those non-Microsoft platforms and liaising on Windows while leaving those on the Microsoft side of the fence to do the heavy lifting with the Skype C++ APIs to improve the way it works with Xbox, Kinect, Hotmail, Outlook, and Lync Server.