Good news for mole-cruiser fanciers today, as boffins reveal important new developments in the technology of burrowing subterranean machines.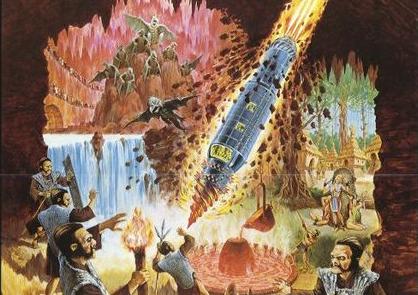 Traditional mole cruiser in action.
The new underground locomotion tech comes from Professor Daniel Goldman of Georgia Tech and his colleagues, funded in their mechanical mole research by the US Army and National Science Foundation. The prof and his team were inspired by the sandfish lizard of the Sahara desert, which "swims" through the sand seas there.
"We were intrigued by the sandfish lizard's wedge-shaped head that forms an angle of 140 degrees with the horizontal plane," explains Goldman. "We thought its head might be responsible for or be contributing to the animal's ability to maneuver in complex environments."
The boffins fashioned a small unmanned demonstrator mole-craft featuring seven articulated segments powered by servo motors. These were apparently "packed in a latex sock and wrapped in a spandex swimsuit". The necessary wedgey "tapered snout" was furnished by attaching a suitable block of wood.
In trials during which it was submerged in a chamber filled with tiny plastic balls, the mole machine's ability to direct its course by changing the angle of its doorstop proboscis was explored.
"The ability to control the vertical position of the robot by modulating its head inclination opens up avenues for further research into developing robots more capable of maneuvering in complex environments, like debris-filled areas produced by an earthquake or landslide," says Goldman.
There are other applications, perhaps more interesting to the prof's military sponsors. We have reported previously on Pentagon plans for the so-called Robotic Underground Munition (RUM), a burrowing mole-missile able to attack such targets as the deeply buried uranium centrifuge bunkers at Natanz in Iran.
It would also, of course, be possible to substitute a crew compartment for the RUM's warhead and add controls for a pilot. Then the long-awaited mole cruiser, navigating beneath the surface of the Earth by means of lightning-plotter 'sferic' beacons, would have become reality at last.
This is important to allow for the real world appearance of such so-far-fictional figures as the Underminer, an excellent supervillain who appears briefly at the end of The Incredibles. Almost his only line is:
"I am beneath you – but NOTHING is beneath me!"
There's more from Georgia Tech here. ®
Similar topics