Unisys revs up big ClearPath mainframes
Looking for a sales bump like Big Blue
If you want to make money in the mainframe racket, you have to keep building ever more capacious machines. And if you really want to make money, then you port your code from CMOS mainframe engines to Intel-based machinery and stop making homegrown processors and system boards.
Unisys is not quite there yet – it's about halfway through its transition from custom CMOS processors to Xeon-only mainframes – and that means the company needs to keep revving up its Dorado and Libra lines of ClearPath machines, which it has now done with its new Dorado 800 and Libra 800 series machines.
Unisys is the result of the merger of Burroughs and Sperry several decades ago, and in case you can't remember, the Libra machines run Burroughs' MCP operating system and the Dorado line runs Sperry's OS 2200 operating system.
Unisys has entry and midrange Dorado and Libra machines based on Intel's Xeon processors, which were revamped in October 2010 with Intel's Xeon 7500 series chips in a four-socket configuration, supporting both MCP and OS 2200 workloads as well as specialty engines for running Java, WebSphere MQ messaging middleware, or cryptography workloads.
Midrange Libra machines came out in March 2010 using CMOS engines, and high-end ClearPath boxes were refreshed nearly two years ago using dual-core mainframe engines. It is time to add some more MIPS to the biggest Libra and Dorado machines.
And that is precisely what Unisys has done with the Dorado 800 and Libra 800 machines.
There are three different machines in the Dorado 800 series, with one variant each depending on if the machine comes with metered pricing or with perpetual licensing for both its hardware (processors and memory) and systems software. The new Dorado 840/850 has from one to eight CMOS processors (that's two to four mainframe chips because they are still dual-core chips) and delivers from 75 to 1,500 MIPS of mainframe capacity. The even-mid-digit models are for traditional perpetual licensing (in this case the 840) while the odd number is for metered pricing (in this case the 850).
Bill Maclean, vice president of ClearPath programs within the technology, consulting, and integrations solutions group at Unisys, tells El Reg that between 75 and 80 per cent of mainframe shops using ClearPath machines employ metered pricing because of the flexibility it gives them for end-of-week, end-of-month, and end-of-year processing – and for those occasional spikes.
However, Unisys sells a lot of its mainframes to federal and state governments, and among these customers, budgets are set and they don't care a whit about utility pricing even if it might save money. (Your tax dollars, pounds, and euros at rest.)
In any event, the Dorado 840/850 machine can have up to eight CMOS processors, configured in one or two partitions, and supports from 8GB to 128GB of main memory. The cell board has two CMOS engines, with two designated for OS 2200 processing and two designated as specialty processors. The board also has ASICs to handle I/O processing, with a maximum of ten of these per system supporting up to 60 host bus adapters or network interface cards. The Dorado 840/850 can have up to four processor cell boards and is designated a midrange box by Unisys.
The Dorado 860/870 machines double this up to eight boards (or a total of 32 CMOS engines) for between 90 and 2,500 MIPS. The top-end Dorado 880/890 machines can also have 32 CMOS engines, but they run at full speed, yielding between 175 and 6,000 MIPS, depending on the configuration.
In a like-for-like configuration based on processor count, the new Dorado 800 series delivers about 70 per cent more MIPS per engine than the Dorado 280 machines from three generations ago, which describes the target customer that Unisys is chasing, according to Maclean, and about 19 per cent more MIPS per engine than the Dorado 380/390 machines from two generations ago.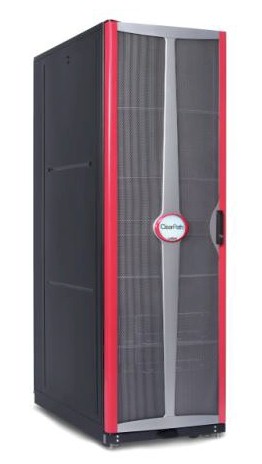 Libra or Dorado, all ClearPaths look the same
on the outside
For customers who need even more oomph, such as China's TravelSky, which uses Unisys Dorado machines for its online-reservation system, customers can lash up to four Dorado boxes (of any vintage) together using its XPC-L3 parallel clustering technology. XPC-L3 is analogous to IBM's Parallel Sysplex for its System z mainframes. This clustering is used for high availability failover as well as capacity scaling, just like IBM's System z customers do with Parallel Sysplex.
The interesting thing about the Dorado 800 series is that the I/O processors support PCI-Express 2.0 peripherals, rather than the PCI-X peripherals supported with the prior generation of Dorado 700 series machines that came out two years ago.
This jump in I/O-processor technology can give a 740 per cent increase in I/O performance running real workloads, according to Maclean. And we all know how mainframe batch jobs love I/O performance. A Dorado 740 midrange box was not able to do more than 100,000 I/O operations per second (IOPS) on its storage subsystems at the system level, and the Dorado 780 was able to hit just under 500,000 IOPS. But the new Dorado 880 is rated at 900,000 IOPS.
The ClearPath Dorado 800 series mainframes support Gigabit Ethernet networking, with 10 Gigabit Ethernet slated for future delivery; storage can link in through 4Gb/sec and 8Gb/sec Fibre Channel or FICON adapters.
On the ClearPath Libra front, the CMOS mainframe engines in the 880/890 machines announced today are goosed to 600 MIPS a piece, yielding about a 10 per cent performance boost per engine and a 10 per cent increase in single image capacity, to an aggregate of 5,700 MIPS. The base machine comes in at 300 MIPS.
The I/O processing for the Libra machines has been virtualized and moved onto the CMOS engines, so there are fewer chips in a Libra machine than in a Dorado machine. The I/O rates, however, are a lot lower than on the Dorado machines. The Libra 880 machine can handle just under 60,000 IOPS running real-world workloads.
The Libra 880/890 mainframes can have from one to four cell boards, and each board has two dual-core CMOS mainframe engines for a total of a maximum of 16 engines. An MCP operating system image can span from 1 to 16 engines. Each cell board has 16GB of physical memory, with 3GB allocated to applications and 1GB reserved for the system; you can upgrade memory capacity with a license key.
The Libra 880/890 mainframes come with JProcessor and ePortal specialty engines (for running Java and application modernization middleware, respectively) in the base configuration, with cryptographic engines sold separately. Each Libra 880/890 cell board has sixteen Fibre Channel ports and eight Gigabit Ethernet ports.
In addition to the new ClearPath mainframes, Unisys is also rolling out new operating system releases for the boxes. Across MCP Release 13.1 and OS 2200 Release 13.0, Unisys had made more than 500 enhancements, including better support for the iPad in the ePortal software and the addition of support for BlackBerry and Android devices. The new machines will support the current releases and one release back for OS 2200 and MCP.
A base Dorado 800 series mainframe, including its system software stack (which accounts for around 75 per cent of the price), sells for $2.5m. The base Libra 800 series machine, which has four times the MIPS, sells for around $4.7m. The three Dorado 800 series machines are available now, and the single Libra machine will be available on June 17. ®