This article is more than 1 year old
What happened when Huawei called in the makeover consultants
KPMG, IBM, Boston Consulting, Henry Higgins
Chinese kit supplier Huawei is working hard to gain acceptance in the west, employing the best in the business to give it a western look that's more than skin-deep.
Taking a walk around its Shenzen HQ this week, I could, almost, convince myself I was on just another tech campus in California.
However, despite its best efforts, European – and more importantly American – companies don't seem to trust Huawei. In the United States, measures have been put before congress that would make it extremely difficult for Huawei, and its Chinese contemporary ZTE, to compete with suppliers from less adversarial countries.
But it's not just that customers fear interference from the Chinese government. Both Huawei and ZTE are often perceived as having little respect for the intellectual property of others. So Huawei has recruited a crack team of advisers to make the company a little less Chinese, in the hope it will ally corporate fears and allow for its planed expansion into the enterprise market.
Working to change Huawei from a Chinese guttersnipe to a company that could pass for a western duchess are KPMG, which audits the company's accounts, IBM, which continue to push Huawei's research and development into shape, and Towers Perrin, which is helping to change the company's entire organisational structure into something a little more western.
Huawei has even hired the Boston Consulting Group to advise on acquisitions and investments: assuming the American government will let them do either.
It wasn't always like this – for the first 12 years Huawei happily created telecommunications equipment for the Chinese domestic market without paying a penny in  patent licences to anyone. China, historically, has no concept of intellectual property so there were no licences to be paid. But as Huawei wanted to compete more widely it had to sign deals with the patent holders: Nokia, Qualcomm, Ericsson and so forth. Those licences were mostly signed around 2002 and 2003, and cover Huawei's earlier indiscretions as well as future use.
Most were bilateral too, and with good reason. These days Huawei has 40,000 patents of its own, and is adding another 5,000 annually. That's less surprising when you notice that almost half of the 110,000 staff are in research and development, and that the company doesn't actually make anything.
Manufacturing is outsourced, Huawei makes some prototypes and short production runs internally, but these days the vast majority is sub-contracted to companies such as Foxconn, which is conveniently located just across the road from Huawei's Shenzhen campus.
Shenzhen is a strange place: 40 years ago it was a small village, but massive tax incentives have made it into a sprawling metropolis where motorcycles are banned to keep crime down, and until 10 years ago you couldn't even get into the town centre without a company pass. These days it feels much more like California than China, with broad, tree-lined roads and high-tech buildings everywhere – still no motorcycles though.
Huawei houses about 3,000 of its staff on the campus, but unlike its production-line brethren across the road, Huawei staff get their own apartments. White collar work had its advantages.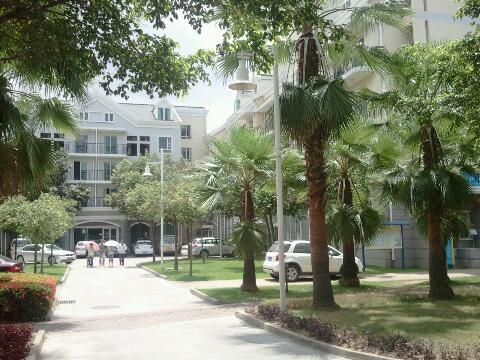 No suicide nets on this side of the road
That's not to say that no Huawei employee has ever worked themselves to death. The company's "wolf culture" still leads to long hours and enormous pressure that can drive workers over the edge, and has done. Even now many staff have fold-out beds by their desks, but our guide assured us that these are used for lunchtime naps rather than overnight stays.
A certain amount of pressure is to be expected, and when you've got so many staff some suicides are statistically inevitable, but Huawei is trying to reduce the hours worked by its staff as well as encouraging greater socialisation to ease the tension even if it's not offering to pay for it.
Which is all part of the transition into a more-western company.
That transition isn't intended to be window dressing – there's a real desire to change if only because the company sees that as the best way to be accepted by the west – "We have to cut the foot to fit the shoe" as one senior executive put it to us.
But while the foot is indeed being cut it's worth remembering what happened to Eliza Doolittle: despite being the recipient of Dr Higgins' best work, she ended up stuck between two worlds, fitting into neither and rejected by the inhabitants of both. It will be a while before the Americans will trust a Chinese company fully, and Huawei will have to be careful to avoid Eliza's fate. ®