Despite lower prices than ever, punters spent less on recorded music in the UK last year according to the BPI's annual survey.
A picture tells a thousand words, so here's a 3,000 word feature you can ingest at a glance: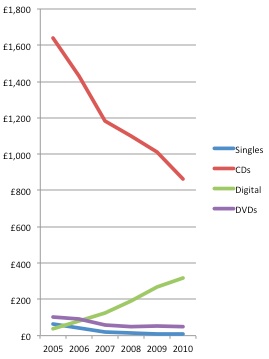 UK recorded music sales 2005-2010
Digital sales rose by 12 per cent to £316.5m last year, but physical albums sales continued to drop, down by £146.8m to £863.2m.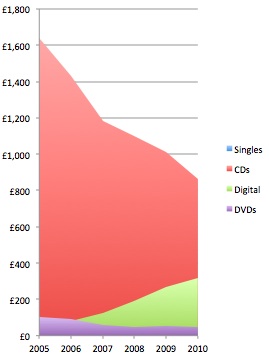 The same data as above
The year-on-year growth in digital continues to slow, however.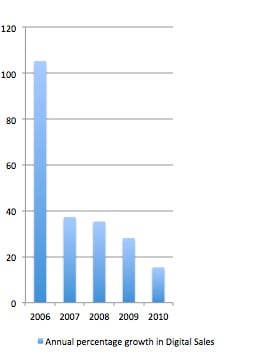 The BPI notes that the retail price of an album has fallen by a third over the past decade. "If retail prices had kept track with inflation, in 2010 the average album would have cost £14.56," the industry group notes.
The BPI also notes that around one in five people made a digital music purchase last year (slightly higher for blokes, at 23.4 per cent). Teenagers, who according to popular mythology don't spend any money on music, are actually the keenest digital music enthusiasts. A third bought digital music, with the average spend being £32.78 py (per-yoof).
So there's still some way to go to getting people to part with their money. The willingness is there: around 44 per cent of the public spend money on physical music. ®