Exclusive Microsoft has quietly been rejigging its identity access group by shunting some of its key engineers out of the way in favour of fresh blood at Redmond's cryptography division, The Register has learned.
Last week the software giant's top identity architect Kim Cameron quit the company, however, Microsoft declined to comment on his departure.
Cameron, too, has so far remained silent about his decision to walk after more than a decade of service at Microsoft.
As we reported last week, Cameron isn't the only potential casualty of a shake-up at the firm. Sources tell us that key players on the identity access team in Redmond, Lee Nackman and Craig Wittenberg, have both been sidelined.
Wittenberg has worked at Microsoft since July 1982, so his removal from the company's ID strategy will likely come as a personal body blow.
Despite the apparent gag applied to Microsoft's current and former employees, who worked in the company's identity and security division, more hints have surfaced that show a new structure is already being put in place.
As we noted last week, Microsoft has been looking to hire "proven top development talent in the areas of identity and access, directory, and cloud platform services (PaaS)". MS technical fellow John Shewchuk's LinkedIn page revealed that particular plan to the world.
El Reg has been busy trying to break the code, and helpfully a job ad from Microsoft has popped up on our radar.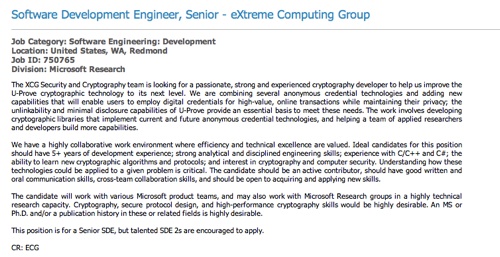 Insert passion here
"The XCG [Microsoft Research's eXtreme Computing Group] Security and Cryptography team is looking for a passionate, strong and experienced cryptography developer to help us improve the U-Prove cryptographic technology to its next level," reads the ad, which was posted by Microsoft on 15 April, a few weeks before ZDNet wrote of Cameron's departure.
"We are combining several anonymous credential technologies and adding new capabilities that will enable users to employ digital credentials for high-value, online transactions while maintaining their privacy; the unlinkability and minimal disclosure capabilities of U-Prove provide an essential basis to meet these needs," the job ad continues.
"The work involves developing cryptographic libraries that implement current and future anonymous credential technologies, and helping a team of applied researchers and developers build more capabilities."
Microsoft said that the ideal candidate for the job would need the obvious high-end developer credentials and, crucially, "the ability to learn new cryptographic algorithms and protocols".
Microsoft bought U-Prove in March 2008 from Credentica, and in recent months the company has blasted its CardSpace tech, which was the brainchild of Cameron and others, into space and released a second preview of U-Prove to help trumpet cloud-based security. The only trouble being that, according to our sources, no one at Microsoft is currently in charge of the U-Prove tech.
Cameron, meanwhile, has tweeted just once since his departure from Microsoft was reported, in which he offers a quotation from Reinhard Posch, the CIO for the Austrian Federal Government, who was speaking at the European Identity Conference.
"The only problem with the cloud is that at some point it will rain." ®