Review Following on from its impressive debut in last month's SSD roundup, it seems in order to look further into Crucial's M4 SSD, specifically the 256GB version of this Sata 3 capable device.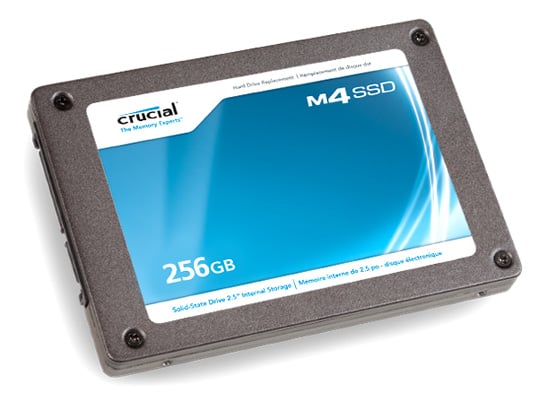 Crucial's M4 really shows what SSDs can achieve thanks to its Sata 3 interfacing
First off, the usual; Crucial has made the M4 available in 64GB, 128GB, 256GB and 512GB capacities with prices starting at £90 and rising all the way up to £700. In relative terms, the low capacity drives are quite affordable, but anything north of a quarter terabyte is not for the shallow-walleted.
Second order of business is the new evolution of Marvell's 9174 controller (88SS9174-BLD2) sandwiched in between the 25nm Micron NAND chips and SATA 6Gb/s interface. Now, Crucial claims there have been no major changes, architecturally speaking, since last year's BKK2 revision that powered their line of C300 drives.
There have, however, been changes made to the controller's firmware to eke a bit more performance out of it. Crucial claims this latest iteration is capable of reading at 415MB/s (40K IOPS) and writing at 260MB/s (50K IOPS).