NASA's Dawn has sent back its first photo of asteroid belt giant Vesta, snapped at a distance of 1.21 million kilometres (752,000 miles), and offering a teaser of what we can expect when the spacecraft goes into orbit around the distant body on 16 July.
The agency's enhanced image shows Vesta against "a spectacular background of stars", with the asteroid shown as "the small, bright pearl in the middle of the image".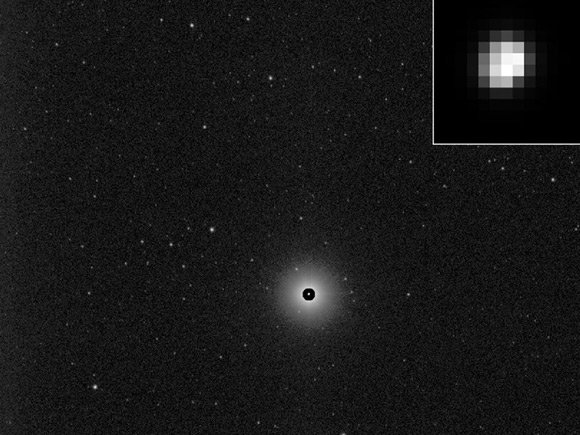 Carol Raymond, Dawn's deputy principal investigator at NASA's Jet Propulsion Laboratory, enthused: "After plying the seas of space for more than a billion miles, the Dawn team finally spotted its target. This first image hints of detailed portraits to come from Dawn's upcoming visit."
At 530 kilometres (330 miles) in diameter, Vesta is the second biggest object in the asteroid belt, eclipsed only by Ceres. Dawn's long journey to a summer rendevous some 188 million kilometers (117 million miles) from Earth began in 2007, and from early August it will begin to collect data from an altitude of approximately 2,700 kilometres (1,700 miles).
NASA adds: "As the spacecraft gets closer, it will snap multi-angle images, allowing scientists to produce topographic maps. Dawn will later orbit at approximately 200 kilometres (120 miles) to perform other measurements and obtain closer shots of parts of the surface. Dawn will remain in orbit around Vesta for one year."
Having bid farewell to Vesta, Dawn will then head for a 2015 meeting with Ceres, officially a dwarf planet which measures a substantial 975 by 909 kilometres (606 by 565 miles).
The data gathered from the two bodies will allow scientists to gain insights into the early solar system. Ceres and Vesta are very different beasts. Ceres appears to be composed of 25 per cent water ice, and if that's true it contains more fresh water than our own planet.
Vesta's surface seems to be basaltic rock, or "frozen lava". Although the asteroid is more or less spherical, it suffered a massive impact which gouged a substantial crater out of the its southern pole, the debris from which is estimated to account for around five per cent of meteorites found on Earth. ®
Sponsored: Ransomware has gone nuclear