Android Market goes commercial in 131 countries
No more excuses for free Angry Birds
---
The Android Marketplace now takes payments in 131 countries, Google has revealed, leaving China and Greenland as the biggest blanks on the map along with some of the more war-torn countries.
That's up from the 32 countries that supported paid apps last September, and includes the Philippines which has been a notable exception until now. But China is still on the list as shown on the map snapped by Android Central at the Google I/O conference.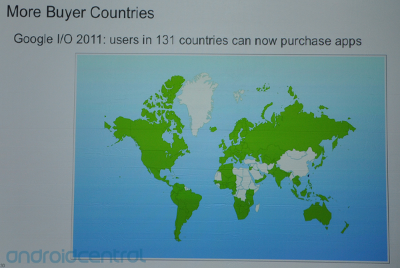 Greenland isn't a big deal, but being unable to sell applications to the billion or so Chinese is more of an issue. Apple has no problem with the Chinese version of iTunes, but Google's history of antagonising the Chinese government (by refusing to self-censor) is probably working against it.
That also means that Chinese developers can't sell Android applications elsewhere, unless they can find a foreign publisher; though free applications are still available for download and distribution.
It was the lack of global payments that prompted Rovio to give away Angry Birds on Android - supported by advertising. Rovio recently signed a deal with DownJoy.com to distribute the advertising-supported version of the game within China, but now there's much less reason to depend on such sponsorship elsewhere.
Local blog Penn Olson points out that China is well served with alternative Android app stores, stocked with "a mix of free and pirated paid apps for users to download".
But in 131 countries, as listed on the Android Developers' blog, one can let Google collect money for one's application - assuming one wants paying. ®