Newspaper readers will be appalled to discover that a blushing, innocent maiden in Silicon Valley has had her reputation besmirched by a wicked rival. Facebook's PR agency attempted to spin a blogger to write an unfavourable story about rival Google. It's caused an outpouring of distress from Her Majesty's Press today, acting at their most chivalrous.
Since Google famously employs no PR staff, and never engages in any lobbying of any kind whatsoever, maintains an honourable distance from government, and certainly never attempts to undermine rival companies or business sectors through such lobbying - the press is aghast. As it should be!
Both the Times and the Guardian put it above the fold on the front page. To the Times, it's a slur. To the Guardian, it's a smear. It even merited a spot on BBC Radio 4's Today program. Surely reparations of historic proportions must now be paid to Google?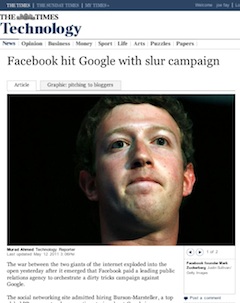 Or perhaps not. But the reaction of editors and producers to the story is both comical and revealing.
Personally, I don't quite trust a company unless I get a frank competitive analysis of its rivals, from the horse's mouth. In a competitive market, these can and should be quite scathing. You listen, learn, take the claims with a huge bag of salt, and get the other sides of the picture.
I make an exception for companies, Intel and IBM, for example, for whom ongoing antitrust concerns have rendered them circumspectly silent when the subject of rivals comes up. They don't dish the dirt. Neither can afford to be careless with its talk, which can then be used to reopen settlements, and I don't expect them to change their policy of no-dishing, just for me. Sometimes PR staff will feed you what they hope to be the germ of a story. It rarely is.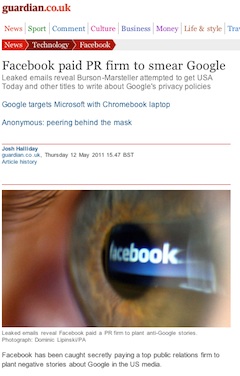 "This is being seen as a pretty underhand tactic," said Rory Cellan Jones at the BBC.
No, Rory. What on earth do people think Public Relations companies actually do? Knit cardigans for orphans up in the Afghan mountains? Train muscular teams of emergency workers to hand lift people out of rubble when there's an earthquake?
"Why would Facebook want to launch a smear against Google?" an equally puzzled Evan Davies asked him.
"In these days of social media, this is going to come out very quickly," insisted Rory.
Er, no. Social media is all about planting stories that are dubious, or untrue stories on Twitter. And in any case, it only "comes out" if the PR company is incompetent enough to cold call a blogger, as it did in this case, with whom it had no relationship.
So why is this fairly standard practice suddenly front page news? As I pointed out above, Google is big enough to look after itself; its "outreach" work includes creating and sponsoring the "Net Neutrality" movement via front groups, and influencing UK IP policy - despite paying no taxes here. The BBC itself seems unable to describe "Neutrality" accurately, as a synthetic, modern media creation.
Hoisting the Facebook "smear" onto the front page is fascinating. It supposes the journalists are too stupid to realise they're being spun, and the audience is too stupid to spot a planted story when they see it. But readers are incredibly sophisticated at this, and news has been an interactive guessing game of who planted what long before "interactive" technology came along.
Perhaps the journalists like to see themselves as whiter-than-white, butter-wouldn't-melt types - when the reality of a large commercial news operation is endless PR freebies and envelope drops from friendly PRs, particularly on the Sunday business pages.
The prominence given to this also suggests the papers take Google's "Chocolate Factory" estimation of itself, as an innocent toy factory with nothing but altruism in mind, at face value. And by extension, Facebook has been seen to sully the pure, unspoiled garden that is the world of Web 2.0 companies. How dare they?
It's one daft thing to expect Web 2.0 to make the world a better place - everyone is now weary of such utopian piffle. But to expect the world of Web 2.0 companies to be purer than pure?
Give me a break.
PR companies wouldn't exist at all if we didn't want to read the stuff, or if such stories weren't effective. The staggering hypocrisy of the posh press, pretending otherwise, is a sight to see.®
Similar topics