Scientists perusing data from NASA's Galileo spacecraft have concluded that the spectacular volcanism displayed by Jupiter's moon Io is caused by a substantial subsurface magma ocean.
A team from the University of California and the University of Michigan looked at "unexplained signatures [which] appeared in magnetic field data from Galileo flybys of Io in October 1999 and February 2000".
These signatures suggested the presence of "ultramafic" igneous rocks, which are "capable of carrying substantial electrical current when melted". NASA explains: "Tests showed that the signatures detected by Galileo were consistent with a rock such as lherzolite, an igneous rock rich in silicates of magnesium and iron found in Spitzbergen, Norway."
The scientists have estimated that Io's magma ocean is some 50km (30 miles) thick, and bubbling away at a temperature above 1,200°C. Its presence under a low-density crust of around 30 to 50km (20 to 30 miles) explains why the moon's volcanoes are dotted all over its surface, rather than in "localised hotspots" as happens at the boundaries of Earth's tectonic plates.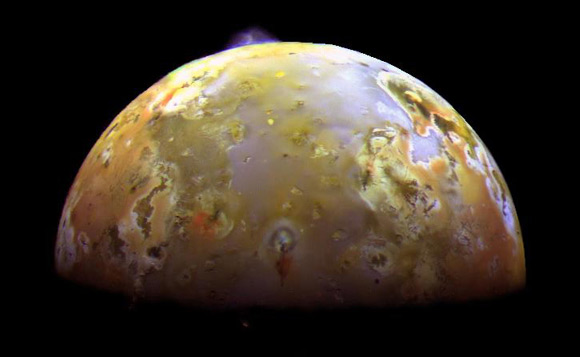 Torrence Johnson, a former Galileo project scientist, said of Io's hotbed of lava: "It has been suggested that both the Earth and its moon may have had similar magma oceans billions of years ago at the time of their formation, but they have long since cooled.
"Io's volcanism informs us how volcanoes work and provides a window in time to styles of volcanic activity that may have occurred on the Earth and moon during their earliest history," Johnson said.
The findings are published in this week's Science (subscription required for the full-fat article). ®