Panasonic Lumix DMC-GF2 micro four thirds camera
EVIL compact gets the 3D treatment
---
Review While Panasonic further extends the range of its Micro Four Thirds cameras with the recently announced Lumix DMC-G3, this new arrival with its bulging bridge form factor won't be for everyone. Keeping up with Olympus with its PEN models, the Lumix DMC-GF1 was Panasonic's first compact MFT alternative and with the DMC-GF2, the company has gone to town on both size and ease of use. It even accommodates a 3D capture that gets tested in this review along with the 14mm pancake wide angle lens.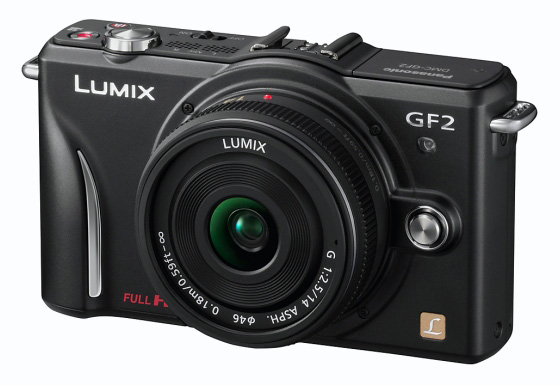 Touch and go: Panasonic's Lumix DMC-GF2
The camera is almost 20 per cent smaller and 20g lighter than its predecessor due mainly to the introduction of a new touchscreen interface that replaces almost all external physical controls with virtual ones that can be activated on screen. Some key features, including the 12.1Mp sensor with a 4:3 aspect ratio, are unchanged from the previous model but there are also a number of significant upgrades.
The DMC-GF2 now sports 1080 full HD video capability in the AVCHD format, increased ISO sensitivity (up to 6400 ISO) and burst rate. It features Intelligent Resolution and D-Range control too. If you buy into Panasonic's H-FT012 3D lens at £256, then the GF2 has the ability to shoot 3D stills.
The GF2 has a rangefinder-style design and a solid metal body. Despite its reduced dimensions, it fits well in the hand and has small but ergonomically efficient handgrip and thumbrest. The camera's exterior has been completely revamped: gone are the Mode Dial and Drive Selector from the top plate – now replaced by a stereo microphone.
From the back, the AF/AE Lock button, the AF/MF button and the Display button are gone too, whilst the Function, Q/Menu and Delete buttons have now been combined into one. The direct movie recording button remains, together with the wheel above the thumb rest, which controls aperture, shutter speed and exposure compensation in manual modes. What the GF2 adds instead, is a dedicated Intelligent Auto button that sits next to the on/off switch on the top.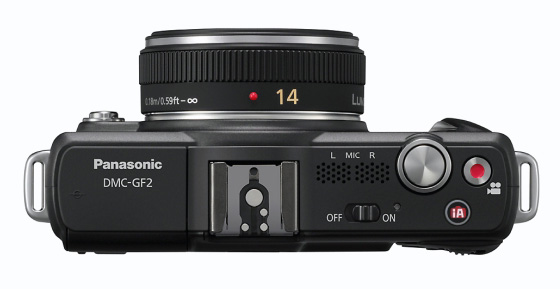 Dials have migrated to touchscreen controls
Like its predecessor the GF2 does not feature a built-in viewfinder although an optional, but pricey electronic one is available at £194. The electronic viewfinder attaches to the hot shoe and can be tilted to 90 degrees to allow for waist-level composition. Despite its downsized dimensions, the GF2 still mounts a pop-up flash, which, although not very powerful, works absolutely fine as a fill-in light.