This article is more than 1 year old
Google Chromebook: Will the revolution be subscribed?
An idea years ahead of its prime
Analysis Google will charge businesses $1,008 to use one of its browser-centric Chromebooks for three years, and the search giant is confident this will slice the total cost of today's business systems in half.
That's according to Rajen Sheth, the Google product manager in charge of the company's Chrome OS for Business program, unveiled with much fanfare on Wednesday at the annual Google I/O conference in downtown San Francisco. Under the program, Google is offering Chrome OS notebooks for a monthly subscription fee beginning at $28 per user. The subscription requires a three-year contract, and it includes not only continuous software updates but also a web-based management console, Google support, and hardware replacements.
According to a recent Gartner Research survey cited by Sheth, the typical business spends between $3,300 and $5,800 on each of its desktops, and he believes the subscription Chromebook will ultimately save a hefty portion of these dollars because the machine is both easier to administer and more secure than traditional machines. Chrome OS simplifies the operating system by putting most all applications and data inside the browser, and in doing so, it takes a multilayered approach to security, restricting each application to its own sandbox and introducing a verified boot sequence that seeks to identify malware at startup time.
"We think this could be a transformational model, in terms of the simplicity it offers to users and administrators, but also the security and the speed it offers," Sheth said on Wednesday during at press briefing at the conference. "We think the total cost of ownership can be less than half we what people see right now."
On many levels, the pitch makes sense. All OS updates, including security fixes, are automatically pushed down to the device over the web, and since virtually no applications or data files sit on device itself, it's easier to set up a machine – or move to a new one when it is lost or stolen or bricked. What's more, Chromebooks – equipped with flash drives – offer unusually fast boottimes.
The trouble is that Google's browser-only model limits what you can do with the machines – more so than Google would lead you to believe. At The Register, we've long used an early version of the Chromebook – the Cr-48 beta machine Google sent out in December – and though there's much to recommend the platform, we can confidently say it's still years away from the replacing most business machines. Google offers ways of working around the platform's limitations – it just unveiled a new local file manager, and Citrix is providing a desktop virtualization tool for running legacy applications – but these tools can take you only so far.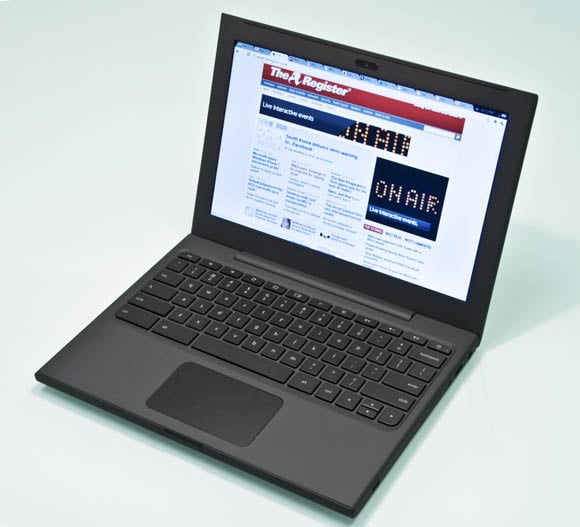 Cr-48: The Chromebook beta
If you lose your network connection, the machine is all but unusable. Though there are some web apps that provide adequate offline access, even Google's own Apps suite is not among them. Google has said, however, that Gmail, Google Calendar, and Google Docs will all provide offline access via HTML5 sometime "this summer".
In an effort to maximize net access, Google is offering machines that include not only Wi-Fi but 3G hardware, but these models are more expensive. Then there's the cost of a data plan. And the, well, spotty performance of today's cellular networks. In the US at least, Google will provide 100MB of free 3G data each month through its partner Verizon wireless.
Naturally, the machines aren't suited to things like video editing, and they're quite limited when it comes to most multimedia or design tasks. But the problem goes beyond an inability to run certain applications. Even if you can accomplish the tasks at hand using nothing but web apps, you may find it difficult to move files between these apps. You can easily shuttle documents between Gmail and Google Docs. But the task is quite different if you're trying to take a screen shot, crop it, and move into a CMS system. This requires an inordinate number of steps, and these steps aren't always the smoothest.