AMD chases servers with fanless FirePro GPU
One driver, three different workloads
---
There are a number of different annoying things about the fanless GPU co-processors that Nvidia and Advanced Micro Devices are peddling as adjunct computational engines for servers. First, these Tesla and FireStream co-processors, as their lines are respectively known, cost more than regular GPUs. And they also have a different set of drivers that deprecate their use as a graphics card.
What server buyers really want – or so AMD hopes – is a single device with a single driver that can be a graphics card for visualization jobs, a compute engine for HPC work, or a video card for virtualized PC instances in a virtual desktop infrastructure (VDI) set up.
And so, AMD has cooked up the FirePro V7800P graphics card, which will swing any way you want it to and which is based on the "Cypress" GPU chip. The Cypress GPU has 1,600 SIMD engines and a slew of supporting electronics wrapped around them so they can do math for HPC applications or driving graphic displays. The Cypress GPU has full support for the DirectCompute 11 and OpenCL 1.1 graphics and number-crunching protocols embedded in its hardware, and also includes 32-bit atomic operations, flexible 32KB local data shares, 64KB global data shares, global synchronization, and append/consume buffers etched onto its silicon. With all 1,600 cores working properly, the Cypress GPU can deliver 2.72 teraflops of single-precision and 544 gigaflops of double-precision floating point performance.
The FirePro V7800P, like the FireStream 9350 and 9370 GPU co-processors launched last June, are fanless designs with heat sinks that make use of the air-flow in the server chassis to keep them cool. Rather than use the top-line V8800, with all of the 1,600 stream processors in the Cypress chip fired up, as the basis of its new server card, AMD decided to take it down a notch to the V7800 graphics card, which has only 1,440 stream processors and is rated at 2 teraflops single-precision and 400 gigaflops double-precision.
The device is akin to the FireStream 9350 that was announced in June, which has the SIMD engines running at 700MHz and 2GB of GDDR5 memory clocking at 1GHz. The FirePro V7800P has a maximum power draw of 138 watts, which is actually lower than the 150 watts of the FireStream 9350. Both the FirePro V7800P costs $1,249, while the FireStream 9350 costs $799 – the same as the normal FirePro V7800 graphics card with its cooling fan.
The other big difference between the FirePro V7800P and the FireStream 9350 aside from heat and the price is that the FirePro V7800P uses the same drivers for workstations or servers running Windows or Linux and can therefore be used to drive graphics or do calculations. The FireStream chips cannot be used for graphics and only function for calculations.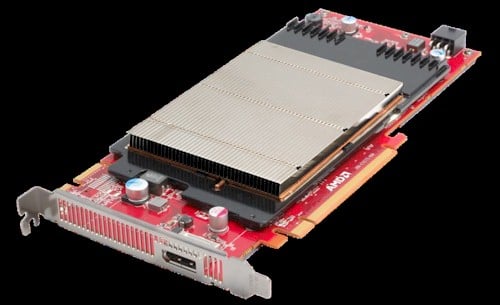 AMD's FirePro V7800P GPU co-processor and graphics card for servers
Ironically, both AMD and Nvidia are trying to charge more for a chip that is less versatile. If they are looking for reasons why GPU co-processors have taken off like blade servers (yes, that was sarcastic), this is one of the reasons.
The good news is that AMD seems to have figured out that companies want one card that can be deployed for many different jobs over its technical lifetime. A cluster of servers to drive calculations does not look that different from a cluster of servers to do visualization and rendering or a cluster to support virtualized PC instances over the local area network. And with the FirePro V7800P, you can do all three of these jobs on the card you plunk inside of your rack servers.
Mitchel Furman, senior product manager for the FirePro line at AMD, tells El Reg that the FirePro V7800P requires 10 cubic feet per minute of airflow to keep it cool, and that servers normally can deliver three to four times that rate in a peripheral slot. The card can be plugged into a server proper or can be hosted in an external PCI-Express 2.0 chassis. It is a half-length, full height card.
The other interesting thing about the FirePro V7800P is that because it is a graphics card, it can support Microsoft's RemoteFX graphics virtualization technology, which debuted with Windows Server 2008 R2 SP1. RemoteFX is a virtualization technology for graphics and media that Microsoft got through its acquisition of Calista Technologies in January 2008. Among many things that the RemoteFX software does to smooth out graphics and audio processing for Remote Desktop Protocol, it also allows for a single video card to be virtualized to host multiple VDI-driven PCs.
Furman says that a server running Windows Server 2008 R2 SP1 can drive 16 VDI sessions off of one FirePro V7800P card, and a 1U or 2U server would easily be able to have two of these cards, or 32 VDI users per machine. In a super-dense tray server, you could pack a lot of VMs into a server.
And perhaps more interestingly, you could have a VDI farm during the day and a computational cluster that runs at night, doing risk analysis or some other HPC job.
AMD is really taking the price war to Nvidia with the FirePro V7800, too. And it has to if it hopes to compete.
The FirePro V7800P has twice the single-precision oomph, at 2 teraflops, as the Nvidia Tesla M2050 with 3GB of GDDR5 memory and the M2070 with 6GB of memory, which are both rated at 1.03 teraflops. Nvidia wins on the double-precision front with these cards, at 515 gigaflops compared to the FirePro V7800P's 400 gigaflops. The M2070 takes up two slots and both Nvidia GPU co-processors are rated at 225 watts compared to the 138 watts of the FirePro V7800P. The M2050 costs $2,699 and the M2070 costs $5,489, according to Furman, although technically Nvidia does not supply pricing for it.
Providing that these prices are correct (and they are in the ballpark of what you would expect a list price to be for the street prices that El Reg has seen for the cards), then the FirePro V7800P wins hands down on performance per watt, performance per dollars, and performance per dollar per watt.
AMD and partner Dell will be showing off the FirePro V7800P down at Microsoft's TechEd conference in Atlanta, Georgia, today, with Dell certifying that its full-height PowerEdge M610x blade server can pack two of these cards and support HPC, VDI, or visualization workloads, the latter including CAD, engineering, and digital content creation applications.
The FirePro V7800P GPU card for servers will start shipping on May 24. ®