Space shuttle Endeavour blasted off on its 25th and final mission today, carrying the Alpha Magnetic Spectrometer (AMS) and spare parts to the International Space Station.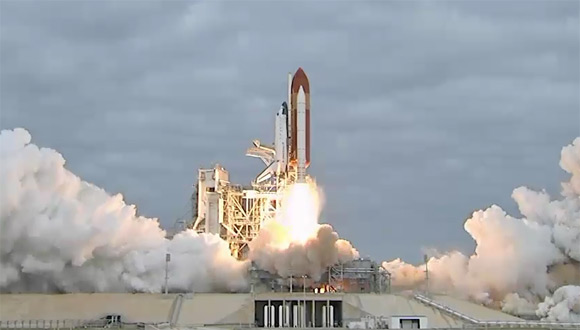 The venerable vehicle departed Kennedy Space Center's launch pad 39A at 12:56 GMT. Speaking from the flight deck shortly before launch, commander Mark Kelly said: "This mission represents the power of teamwork, commitment and exploration. It is in the DNA of our great country to reach for the stars and explore. We must not stop."
Also on board for the the 16-day STS-134 mission are pilot Gregory H Johnson and mission specialists Michael Fincke, Greg Chamitoff, Andrew Feustel and European Space Agency astronaut Roberto Vittori.
Chamitoff, Feustel and Finke are tasked with tackling various ISS maintenance jobs during four planned spacewalks, details of which can be found in the mission summary (pdf).
Endeavour first launched on 7 May 1992, on STS-49. Career highlights include the first servicing mission to the Hubble Space Telescope in December 1993, and delivery of the first American component of the space station, the Unity Module, during December 1998's STS-88.
Once it touches back down in a couple of weeks, Endeavour will be prepared for permanent display at the California Science Center in Los Angeles.
NASA has an Endeavour factsheet here (pdf), and a photographic tribute gallery here. ®