HP unveils stylin' new desktop line
WebOS? 'Not yet'
HP has spiffed up its three-PC desktop line just one week after rolling out new consumer and business notebooks and netbooks.
Each of the new offerings – the entry-level Slimline s5, middle-of-the-road Pavilion p7, and workstation wannabe Pavilion HPE h8 – have been given makeovers that were designed, as HP says, to "match the style and preferences of today's consumer." They've also been bumped up to Intel Sandy Bridge processors. Or AMD Phenom processors. Your call.
That makeover description may read like mere over-the-top marketing hype, but when we met the three desktops at a press event earlier this month, we were impressed by the cleanliness of their design – with a minor quibble or two that we'll get to in a moment.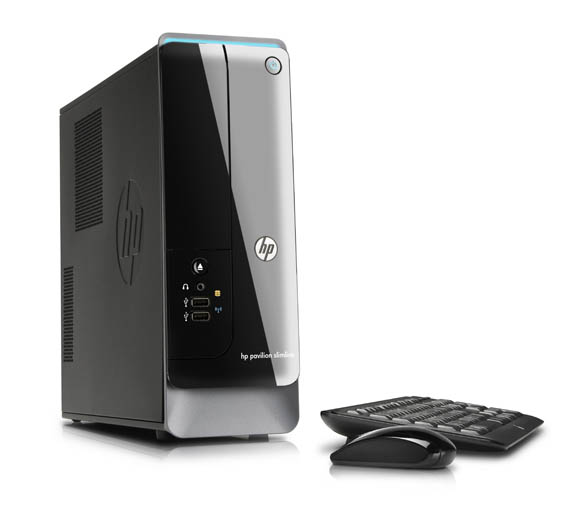 HP Slimline s5 series PC
Down at the bottom end of the three-PC lineup is the HP Slimline s5 series. At about half the size of your garden-variety tower, the Slimline is designed to sit on your desk, not under it among the dustballs and mites that so often find their way into floor-level rug-sitters.
The top-of-the-line Slimline can be equipped with a Core i7, and a variety of hard-drive choices are available – but there's no room for an SSD, however. Four DIMM slots allow up to 16GB of RAM – well, 32GB, actually, if you're crazy enough to pop for heinously expensive 8GB sticks for an entry-level desktop.
Graphics choices range from the Sandy Bridge processor's integrated graphics to such ATI and Nvidia cards that'll fit into the Slimline's single PCIe slot and stay within the unit's total system-power budget of 250W.
One Slimline design choice that we weren't particulalr enamored with was the fact that the optical drive is not slot-loading, but instead a vertically mounted tray-loading affair that hides behind a swing-open door.
The Slimline is scheduled to ship in the US on June 15 at an entry-level price of $329.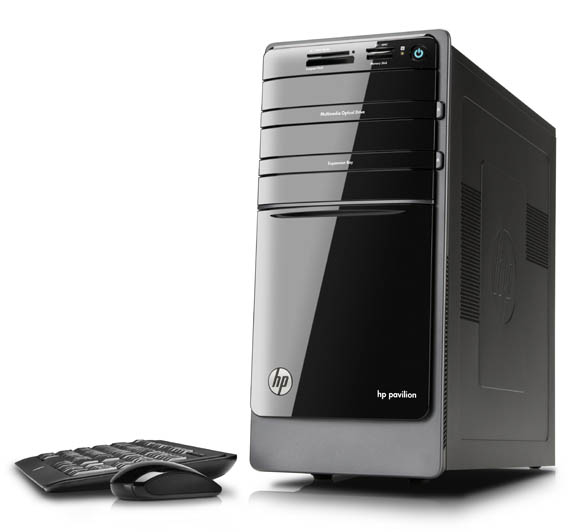 HP Pavilion p7 series PC
The meat-and-potatoes of the new line is the Pavilion p7 series, which will start at $299 when it becomes available in the US this Wednesday. Despite that foot-in-the-door price, an HP rep told us that "average pricing with good configurations will be between $599 and $650" – that is, with such niceties as a decent graphics card, and not merely integrated graphics.
Processor options include a Core i5, Core i7, or an AMD Phenom, although more details were not released at the press briefing. When we asked if any of AMD's Fusion products were to be offered, the rep said: "Not at this cycle – and I'll just leave it at that."
Ann Finnie, HP's worldwide PR manager for the company's personal systems group, answered the same question with practiced word choices: "HP is always evaluating these types of technologies," she told us with a smile.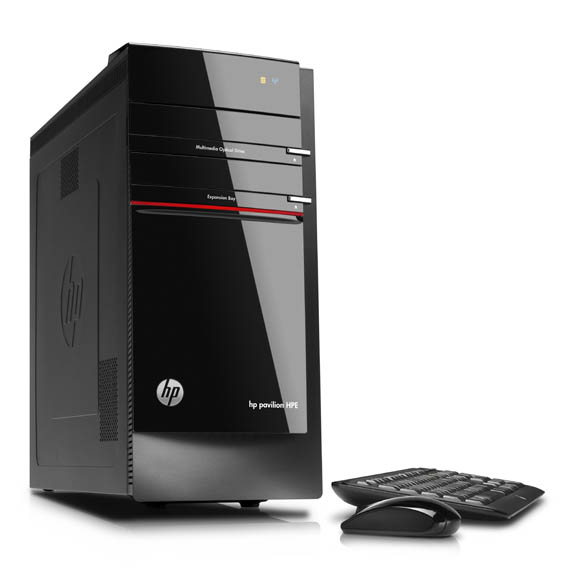 HP Pavilion HPE h8 series PC
The muscular Pavilion HPE h8 is headed under your desk – or on top of it, if you enjoy observing its red, glowing accent stripe. Unfortunately, if you don't like that distraction, you'll need to learn to live with it – the light can't be turned off.
This big-boy – which the HP rep called "our WRX model" – has three 3.5-inch drive bays that you can configure as you please: separate volumes, RAID 0 or 1, or filling one of the bays with an SSD.
Due to the fact that the HPE h8 has a 600W power supply, the rep said, it can house a graphics card that sucks as much as 250W. "Imagine a GTX 580 card from Nvidia," he said. The beefed-up power supply also has enough oomph to simultaneously support a 130W Intel Core i7 Extreme Edition processor.
Six DIMM slots support up to 24GB of RAM – or, again, 48GB if your generous uncle happens to be Carlos Slim. "This almost becomes a consumer workstation," our guide told us, "though the workstation guys don't like to hear that."
Other nice touches include RCA audio and video ports hidden behind the HPE h8's brow along with a USB 3.0 port to make it easy to place your camera, media player, or whatever on top of the unit's slightly concave top for easy hook-up. Speaking of audio, the HP/Dr. Dre Beats Audio sound-enhancing hardware is on the big fellow's motherboard.
Although the HPE h8 will be available on Wednesday for $599, a fully loaded config can weigh in at as much as $2,000. However, "typical configurations on the street will be about $699, $799," we were told.
Finally, although we tried to get someone – anyone – at HP to give us a timeframe as to when the company will be adding webOS to its consumer models, as they have announced, the best we could get was "not in this timeframe" and hints that we could expect a beta version in coming months. Which months? We'll find out in "coming months". ®