Nokia finally gives Ovi brand a mercy bullet
Services are still there for now
---
"People often ask, 'What's a "Nokia"? – is it some new kind of yoga or a fashionable new diet?' Then you remind them – it's the platform for the Ovi mobile services experience – and the fog of confusion quickly clears."
– The Register, August 2010
Tears will be shed in Shoreditch and Soho tonight as Nokia has confirmed it is finally ditching its Ovi brand – ending one of the most expensive and unsuccessful branding adventures in tech history. We advised it to drop the brand two years ago.
But don't get too excited just yet. Ovi services will continue, the company promises, under the slightly better-known Nokia moniker.
The news was accompanied by some priceless Boutiquespeak on the corporate blog:
According to Jerri DeVard, Nokia's Chief Marketing Officer:
"We have made the decision to change our service branding from Ovi to Nokia. By centralizing our services identity under one brand, not two, we will reinforce the powerful master brand of Nokia and unify our brand architecture – while continuing to deliver compelling opportunities and experiences for partners and consumers alike."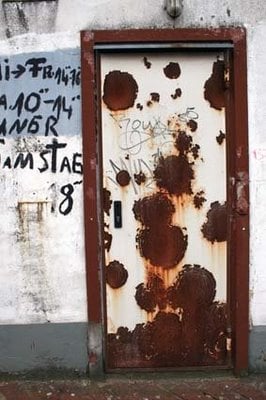 Ovi means "door" in Finnish
Ovi will be phased out by next year, she said. Nokia's partnership with Microsoft has led to speculation that it will increasingly rely on Microsoft for services, rather than build its own.
The original strategy, introduced in 2007, wasn't a bad idea. The intention was to increase customer loyalty by bundling unique Nokia services with the phone - so punters came back for more. Ovi would be the umbrella brand for music, maps and the games initiative N-Gage, or as Nokia put it "the one-stop destination for communities, content context and more".
But many punters preferred to use services that already existed, and that they knew worked: Facebook, Flickr, and Google Maps for example. They saw the phone as a means to an end.
And the execution - as with anything software-related at Nokia - was abysmal. Crucial work was outsourced to Shoreditch-types who delivered poor quality software. As a result Ovi was a strong disincentive to buy a Nokia phone - when devices from rivals could get you to where you wanted to go quicker and easier. Even if it does little else, at least the Microsoft partnership should redress that.
Nokia says roadmaps are unchanged.
Ovi reverts to its original meaning - it's the Finnish word for "door", and not, as youngsters might presume, "bloated and dysfunctional piece of software". ®