This article is more than 1 year old
RIM BlackBerry PlayBook 7in tablet
A blank slate?
Touch and go
Anyway, there's much more to the PlayBook. Take the design. There's no button on the front of the device and the power button on the top edge is so recessed it's fiddly, though RIM has told me that its adjusting this so it's easier to use. But most of the time you don't need it thanks to the bezel.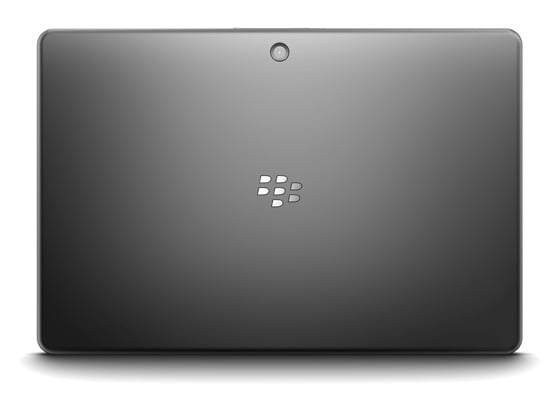 Like the Motorola Xoom, powering on from the back can be a bit of a fiddle
That bezel surrounding the display is wide for a reason – it's touch-sensitive and when you swipe a finger between two opposite sides it wakes the screen in a way that's rather pleasing. The display is bright, colourful and detailed: the 1024 x 600 pixel resolution at 169dpi, is proportionally higher than the iPad's 1024 x 768 screen at 132dpi. Indeed, video playback looks excellent on this screen.
The operating system, called BlackBerry Tablet OS, is noticeably different from that of the phones, though clearly related. In fact, the OS here is one of the slickest and most enjoyable yet on a touchscreen. It's not as instantly intuitive as the iPad, which is why a pair of videos appear onscreen to show you what to do when you first power up, but it's easy and quick to master.
The home screen has a tray of apps along the bottom, and here it does resemble BlackBerry phones, so you can swipe between trays of Games, Favourites, Media and more. Swipe down from the top of the screen and a menu drops down.
To dismiss a program you swipe up to minimise it to a thumbnail, then up again to flick it off-screen. Palm Pre users will recognise this as similar to the OS there. In both cases it's an enjoyable way of doing things. The PlayBook is good at multi-tasking, too, and you can flip easily between open applications.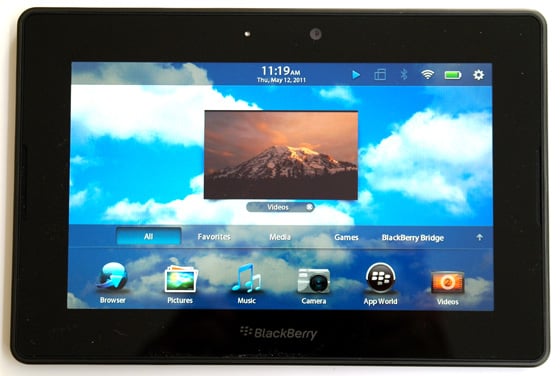 Not always intuitive, but easy once you know how
It's a more straightforward system than BlackBerry OS, but there are idiosyncrasies. If you want to change the background image you might think that comes under the Screen menu. No, you want the Pictures shortcut, from where you display the image you like and then swipe the menu down to choose 'Set as Wallpaper'. Easy when you know how.