This article is more than 1 year old
RIM BlackBerry PlayBook 7in tablet
A blank slate?
Video niceties
RIM claims a wide range of file formats and codecs will play back on the PlayBook, including M4A, M4V, MOV, AVI, WMV, WMA, MP4, AAC, MP3, Xvid and H.264. In tests, the tablet played nicely with many formats but not all, such as a couple of high-definition .mkv files. The videos that did play looked great on the PlayBook and standard def content transferred to the big screen with reasonable quality.
Attach a mini-HDMI to HDMI cable to the mini-HDMI socket on the PlayBook's base and you can mirror what's on the tablet on a flatscreen TV, which worked effortlessly.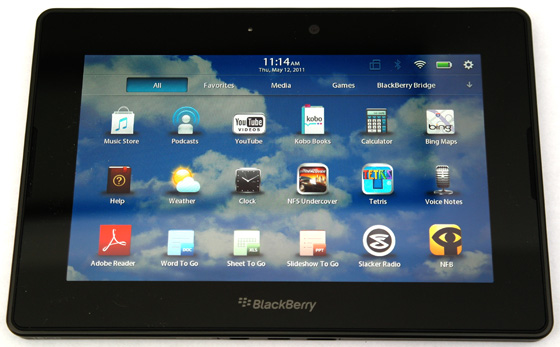 Apps menu in landscape mode
When it comes to surfing the Internet, the experience is way better than on any other BlackBerry device. The browser is fast, accessible and attractive. It opens with a grid of favourites including Google, Amazon, Bing, Facebook, YouTube and more. Once you're browsing the site you want, previous pages are stored offscreen – swipe down from the top and thumbnails drop into view.
RIM has made much of the PlayBook's Flash capabilities – partly because a certain market-dominating tablet doesn't have it – and the results are great. Testing it with the Flash-heavy cute animation of Apollo 11 readying for lift-off displayed smoothly, switching easily between video, audio and photos.
The PlayBook shoots 1080p video and has a 5Mp camera on the back which delivers decent results. The front-facing camera, mostly used for video calling, is also good, with a 3Mp resolution. Neither camera has flash and tablets don't really lend themselves to being held comfortably for shooting – though this one is easier to manipulate than a 10-in tablet.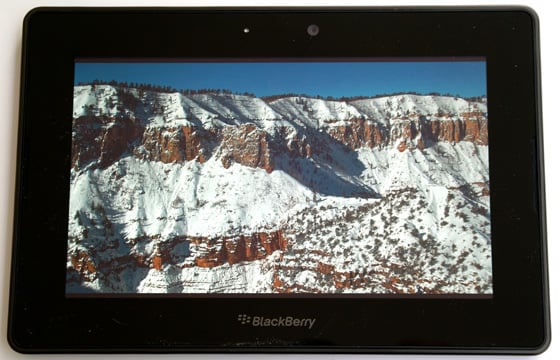 Image and video viewing is bright and crisp
Functioning as a eBook reader is one of the tasks tablets undertake and Kobo is the app of choice here. When it comes to turning pages, it lacks the graphical delights of Apple's iBooks, but it's an acceptable reader. The device is easier to hold because it's lighter than an iPad, though no match for the Amazon Kindle.