Whenever I try to wear earphones, I spend more time attempting to fit their rubbery tips snugly in my lugs than I do untangling the ever-knotted spaghetti junction of cable. Designers have battled for years to tackle the issue, but with a "Diaphonic Lens" they may finally have the solution.
These miniature balloon-tipped earphones are designed not to trigger the natural muscle-tensing reflexes of the ear, resulting in a need for less sound volume, less potential for ear-damage, and a comfy fit too, apparently.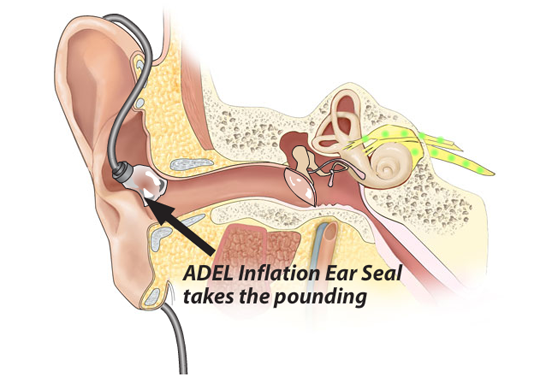 Stephen Ambrose and researchers at his company, Asius Technologies, discovered a solution to the ear's natural defence mechanism which automatically lowers volumes when inflicted with loud sounds. When triggered, it tenses muscles supporting the middle ear and dampens sound energy reaching the cochlea by up to 50dB.
Ambrose's team has introduced a second membrane, which takes the pressure in place of the eardrum. This works through two developments.
The Ambrose Diaphonic Ear Lens has a 2.5µ-thick polymer membrane which reroutes acoustic energy into the walls of the ear canal, where bone conduction takes over, transporting sound to the cochlea in the same way open-ear listening would.
Meanwhile, the Asius Diaphonic Pump, a subminiature pump that can be mounted in-line or on drivers, turns the otherwise-wasted energy from a moving driver into inflation pressure to keep the tips sealed in the ear canals.
A design that is "in-the-works" combines the two developments, where upon audio playback, the tips inflate, sealing the canal and protecting the eardrum from too much pressure.
Below is a video of Ambrose explaining how his invention works.
Ambrose reckons to have discovered the "earphone holy grail" and said "beyond the health, comfort, and safety benefits of the ADEL approach, it resulted in a wider soundstage, better frequency response, and the ability to listen at a lower overall level".
Design specifics are still being tweaked and a commercially available product is a way off yet, but Ambrose is in negotiations to license his technology, so keep your ears peeled. For a detailed look at this Asius Technologies' audio solution, check out Sound & Vision's in-depth hands-on. ®