TMS launches RamSan-70 Gorilla
PCIe ape beats chest, roars. Who will challenge Kong?
TMS has doubled the capacity of its PCIe flash card and almost tripled its performance.
The RamSan-70, code-named Gorilla, has a capacity of 900GB of single-level cell (SLC) flash, twice that of the preceding RamSan-20. Gorilla, using 32nm NAND from Toshiba, is 2.75 times faster than the RamSan-20, half the size, and has a longer lifespan; 18 years at 25 per cent write bandwidth.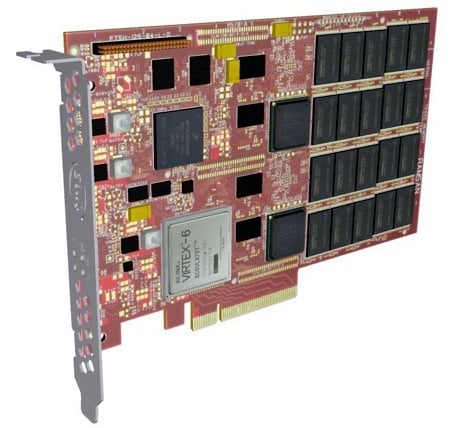 TMS RamSan-70 PCIe flash card (TMS).
The random read IOPS number is more than 330,000 and the product delivers slightly over 2GB/sec bandwidth. How does this compare to competing products?
The leading product in this SLC PCIe flash part of the storage market is Fusion-io's ioDrive Duo, holding up to 320GB, and rated at 261,000 random read IOPS (with 512B blocks), 262,000 random write IOPS, and 1.5GB/sec sequential read and write I/O. The new RamSan blows it away.
Virident's tachION holds up to 800GB of SLC flash and is rated at 300,000 IOPS with a 75:25 read/write ratio. It runs at a peak of 1.44GB/sec and has a sustained bandwidth of 1.2GB/sec. The endurance is 24 years at 5TB of writes/day. The TMS product seems to out-perform it on I/O.
LSI's WarpDrive SLP-300 holds up to 300GB of SLC NAND, and runs at 240,000 random read IOPS, 200,000 random write IOPS, and 1.2GB/sec doing sequential reads. Again TMS's RamSan-70 out-performs it.
Intel is supplying PCIe NAND for EMC's Project Lightning but the performance numbers haven't been released.
The RamSan-70 does not rely on the host processor for flash translation as there is an on-board PowerPC CPU, firmware-upgradable Xilinx FPGAs (field-programmable gate arrays), a lightweight host driver. and a complete on-board Flash Translation Layer. Flash look-up tables are included and there is on-board RAID.
TMS has made this an exclusively OEM product. The pricing is 15 - 20 per cent less than the RamSan-20, there is a four to six week lead time, and OEMs have to commit to 100 boards a year. First OEM ship will be in four to six weeks.
TMS is having a good mid-year, having scored a record-breaking SPC-1 benchmark with its externally-attached RamSan-630 NAND array, and now bringing out the RamSan-70. With EMC megaphone marketing the idea of PCIe flash, it looks like good timing on TMS's part. ®