VMware boots up Horizon cloudy app manager
One app to bind them all
---
IT managers don't dislike apps, cloud computing, or virtualization, but they need to rein them in and make employees use them in consistent, secure, and responsible ways. And that is what VMware's "Project Horizon" App Manager is all about.
"The operating system becomes less and less relevant," Noah Wasmer, director of advanced development at VMware and the person who spearheaded the development of the Horizon App Manager, tells El Reg.
Not that we won't use operating systems. Of course we will. And, in fact, we will be using many different operating systems to run our applications. It is just that we will no longer let ourselves be defined and limited by the primary operating system that happens to run on our work PC. And not because we have a grudge against Microsoft Windows, but because our applications are no longer just limited to code we installed on our PCs to run locally.
For the first time in many decades, your desktop – both the physical one and the abstract one encapsulated in your PC – is not necessarily the place where you do all of your work. But no matter where you are and no matter what device you happen to have at hand – PC, netbook, smartphone, tablet – you want to be able to get work done.
And in many cases, you have locally running applications, cloud-based applications (Salesforce.com, NetSuite, Workday, Facebook, and so on), and still other applications that are running on corporate servers somewhere behind the firewall that are streamed down to your thin client or PC using various virtual desktop infrastructure (VDI) tools.
The goal of the Horizon App Manager, which has been in development for about eighteen months, is to stitch together all of the different applications we use into a new kind of workspace that shifts with the devices we access them from, and yet gives the IT department a consistent and controlled means of letting us subscribe to applications and run them from PCs, tablets, and smartphones.
Here's the conceptual image of Project Horizon, which as you can see puts VMware at the center of everything you do: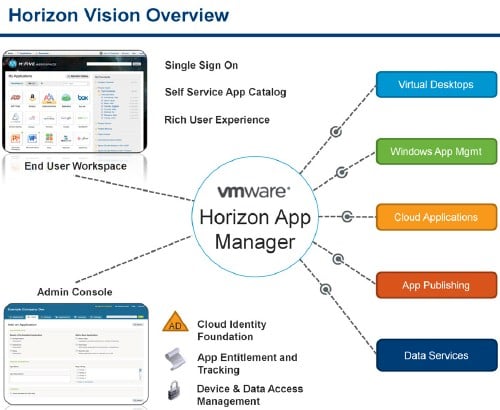 VMware's Project Horizon App Manager: One ring to bind them all
The Horizon App Manager that launches on Tuesday is not complete, but VMware wanted to start selling it even before it can do all of the functions the company envisions for the service.
The first rev of the Horizon App Manager, which does not have a release number and which is actually sold as a SaaS application, manages access to cloudy applications and presents them in a catalog – the corporate analog to an iTunes store. This is a metaphor that consumers are comfortable with, and this online-store approach is the way workers within the corporation increasingly want to consume applications.