Public: Whack pirates harder
Angry mobs besiege garden sheds, comic book stores?
Wiggin's annual gigantic digital entertainment survey is upon us, and shows attitudes against online copyright infringers have hardened even further than a year ago.
But interestingly, many "pirates" agree with the majority view supporting enforcement measures - and half of those currently pirating would pay real money to continue using their fave pirate site or service, if it were made legal.
The research suggests that most people downloading illegally do so casually, don't think it's right, and would stop if alternatives came along.
Fancy that!
Law firm Wiggin polled 1,750 "digitally active" UK consumers over 15 of all ages for its annual survey. 62 per cent surveyed agreed that it was right to suspend the internet connections of persistent online copyright infringers. The same number agreed that more should be done to block pirate sites, but 61 per cent preferred site blocking to going after individual infringers.
A mere 11 per cent disagree with the statement: "It is important to protect the creative industries from piracy"; four per cent disagreed with it strongly. Around 25 to 30 per cent of those surveyed were indifferent.
Surprisingly, attitudes don't differ that much among people who do cop to online copyright infringement: a majority of "pirates" agrees copyright enforcement is correct, something needs to be done, and it's better to block sites than haul individuals through the system. 48 per cent of "pirates" - people who regularly infringe - agree that copyright industries should be able to protect their work from piracy; a similar number of infringers agree with broadband suspensions for persistent infringers.
There's not a lot of difference in attitudes between people who never infringe, and those who do.
48 per cent would pay "a small monthly fee" to carry on using their preferred pirate site - although 36 per cent would wander off to another unlicensed site.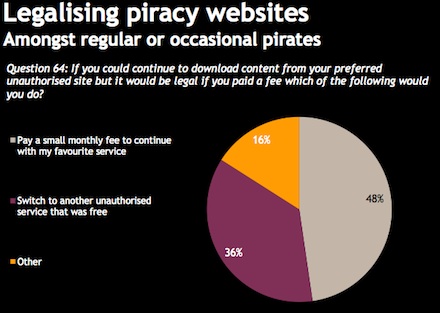 Almost half of pirates would pay something to keep using the service
The number of people who infringe, or admit to it, is quite small.
Previous surveys peg the proportion of infringers as around one in three broadband users - a substantial number, but still a minority.
Only 13 per cent of consumers download music from unlicensed sources, with only five per cent doing so regularly. The other figures are in the graphic below. Five per cent cop to looking for unlicensed films online, the same number as use P2P networks.

Yarr! [click to enlarge]
The numbers chime with previous research.
MORI http://www.theregister.com/2010/07/01/leechers_unloved/ found that 52 per cent of the public approve of suspensions for repeat infringers who ignore warnings. Wiggin's survey last year found that 48 per cent of people approved of internet suspension for copyright scofflaws.
It's certainly a striking difference in attitudes.
Rather than viewing copyright infringers as "pirate heroes", the public tends to view them as an anti-social minority who flout the law. This contrasts starkly with the views of technology utopians and academics, who view the minority as helpless victims of the entertainment "mafia" and outdated laws.
There's a caveat here that the entertainment industries would be daft to ignore, though. If the copyright scofflaws are a tiny minority, then persecuting hardcore infringers might be a tactical battle they feel they can win; but what's the opportunity cost? Without cool new services, they'll have won a battle, but lost the war. ®
Bootnote
The biggest increases of any digital entertainment activity - legal or otherwise - were for downloading phone apps, mobile web browsing, buying ebooks, and playing 3D games.
The iPad, HD TV and Kindles topped the list of most desirable kit, should the punter be handed £1,500 to spend.