Cameron and Tyler Winklevoss, the square-jawed Ivy League twins who were dope-slapped by mean li'l Zucky in the movie The Social Network – oh, and allegedly in real life, as well – have announced that they will take their lawsuit against Zuckerberg to the US Supreme Court.
The Reg's stateside readers must surely feel all warm 'n' fuzzy, knowing that their tax dollars will subsidize the adjudication of whether Cam and Ty were short-sheeted when they accepted a $65m pittance to drop their original suit against Zuckerberg and Facebook.
That settlement, by the way, consisted of a mere $20m in cash and $45m in Facebook shares – which according to some reports are now worth anywhere from $150m to $200m.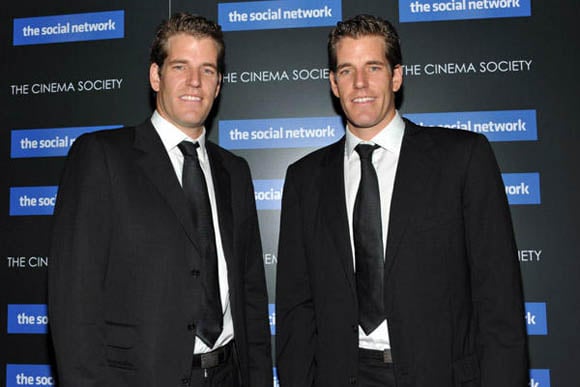 The Winklevoss twins: Cameron, left (or maybe right), and Tyler, right (or maybe left)
The unfortunate Winklevi were shot down earlier on Monday by the US 9th Circuit Court, which told them, surely in fine legal language, to take their case and essentially to insert it where the sun don't shine.
But did that distinct defeat deter the determinied duo – described in The Social Network's screenplay, by the way, as "identical twins who stepped out of an ad for Abercrombie & Fitch"? Of course not – privilege is not to be denied.
"The Court's decision shut the courthouse door to a solid claim that Facebook obtained this settlement by committing securities fraud," the persistent pair pouted in a statement following the 9th Circuit's decision. "Our Petition to the Supreme Court will ask the high court to decide whether that door should be reopened."
And so the circus continues, with Zuckerberg defending his squillion-dollar social-networking cash machine not only from the Winklevoss twins but also from a wood-pellet salesman who claims he's entitled to half the site's value, with the well-wheeled Winks themselves being sued by a developer for a chunk of their cut, and with Cam and Ty now demanding the attention of the black-robed solemnities sitting on the highest court in the land.
America – is this a great country, or what? ®
Sponsored: Webcast: Simplify data protection on AWS