iControlPad Bluetooth controller for mobile devices
Finger clickin' good
---
Buttoned up
If there is one minor complaint, it's that the shoulder buttons on the rear of the unit are placed too low. It's difficult to see where else they could be placed, with the top of the controller inaccessible when clamped onto a smartphone, but if raised just a few centimetres higher, then they would be within more comfortable reach. Conversely, when used without the clamps, for pairing with a tablet, say, the exposed clamping rods – three on each side – mean the iControlPad isn't quite as ergonomic as you'd hope.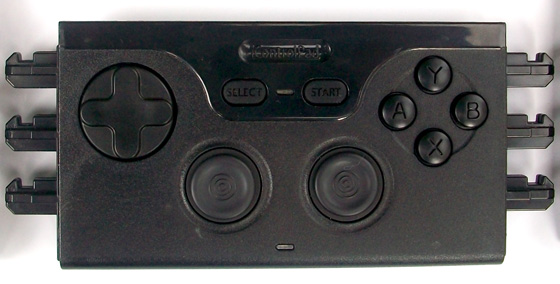 A tad inelegant, but available for a few quid less without the sidebars
The only other drawback is price. Although understandable given the iControlPad is not mass produced, at £38 for the gamepad alone, and nearly £47 when bundled with the side clamps, no doubt many will consider it to be too expensive.
Verdict
The iControlPad is a nifty little device that almost perfectly solves the touchscreen game control conundrum, albeit a bit of a faff for iOS users. With news of developers working on wrappers to simulate touchscreen presses and motion senses, it also looks ideally placed to bring improved controls to mainstream App Store and Market games. ®
iOS and Android – Reg Hardware's resident game guru, Andrew Bailey, will be making his pick from all the key mobile gaming platforms every month.

iControlPad Bluetooth controller for mobile devices
An esoteric peripheral that instantly improves touchscreen gaming.
Price:
£38 (controller only), £46.70 (with sideclamps) RRP