Intel has rewritten its product roadmap to drastically cut the power targets for its notebook processors and to expand those targets for its mobile-device processors.
"We've decided, looking forward, that our roadmap was inadequate, and that we need to change the center point," Intel CEO Paul Otellini said during his keynote presentation on Tuesday at his company's Investor Meeting 2011.
In his 37 years at the company, Otellini said, Intel had made such a fundamental shift only three times. Those first of those three shifts, Otellini said, were the Pentium in 1995, which introduced multimedia capabilities to the PC. The second was the low-power, mobile Centrino and its Banias platform in 2003.
The third shift, according to Otellini, will be embodied by Intel's 22-nanometer Ivy Bridge and Haswell microarchitectures in 2012 and 2013. "The shift that we're making today is as fundamental," he said. "We are aiming our center point for all our design activities from sort of the 35, 40 watt midpoint we have today in the notebooks that most of us use. We're shifting that down substantially to 15 or so watts."
He hastened to assure his audience that Intel would still build chips that scaled up the dynamic range for other markets, such as PCs and servers – "obviously," he said – "but the centerpoint is increasingly going to be about ultramobility."
The revised design-power targets will include system-on-chip Atoms, as well. Those targets will be scaled both up and down to range from sub–one watt to under 10 watts.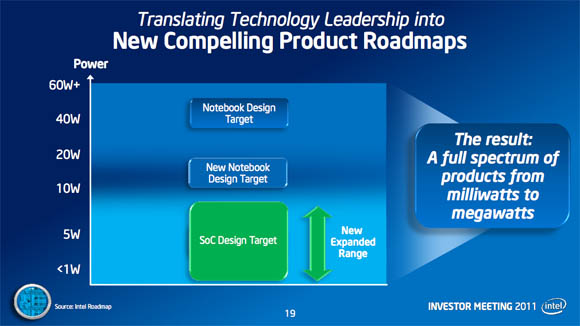 Intel's new power-design targets: lower for notebooks, broader for SoCs
"The net result of this," Otellini said, indulging in a bit of hyperbole, "is that we will be able to deliver one single architecture, one common instruction set, one set of platform capabilities backed by software, that scale from the milliwatt to the megawatt.
"I don't think anyone else on earth is even thinking about this, and this will be implemented over the next several years."
Turning his attention to the now SoC-forever Atom, Otellini promised. "Over the next 36 months you'll see us bring to market Atom-based chips for a whole variety of tablets and phones and embedded machines and netbooks and so forth that essentially will move at twice the rate of Moore's Law.
"We'll deliver on 32nm, then on 22nm, and 14nm inside of that 36-month window." That 32nm part had been announced back in 2009, and the 22nm Silvermont was leaked last week, but the 14nm Airmont is newly revealed.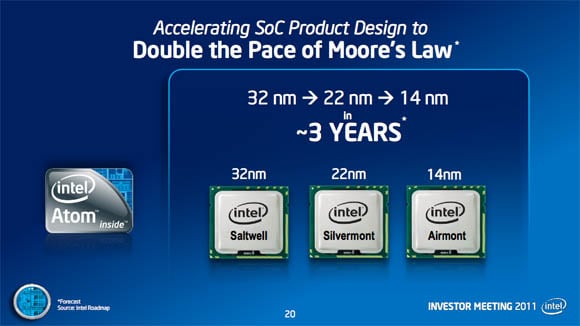 Fourteen-nanometer Atom SoCs will appear in 2014 under the code name of Airmont
Moving back to the notebook market, Otellini focused on what he called "perhaps the most exciting thing we'll be talking about today ... redefining the consumer PC experience."
Displaying a slide of a thinner-than-a-MacBook-Air notebook, he said: "This is the kind of device we expect people to be carrying around in the next 24 months or so."
Your future notebook PC, redefined and reinvented by Intel's presentation-slide designers
This sliver of a notebook, in Otellini's keynote-traditional purple prose, "is not just a PC. It's about reinventing the PC."
His list of features for this svelte reinvention include better performance than any laptop available today, all-day battery life, always-on connectivity, "best-in-class" graphics, increased security, multiple-operating-system support and inter-device communication, a touch-enabled interface, and instant-on operation – all at "mainstream price points," he promised.
"This is not about evolving the PC, this is about reinventing the PC," Otellini reiterated, "making it much more of a consumer electronics–like device." ®
Bootnote
Every keynote presentation must include at least one over-the-top statistic on at least one over-the-top slide, and Otellini did not disappoint: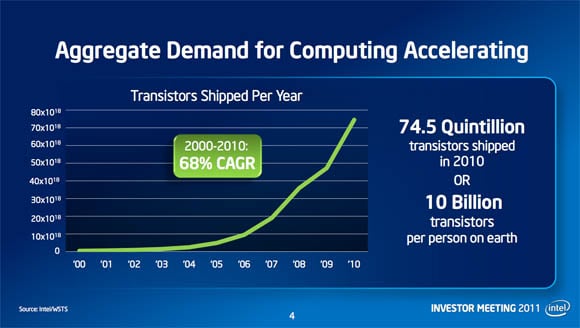 Are you, dear reader, making good use of your allotted 10 billion transistors?
Even the Intel CEO himself was bemused. "This is the first, I think, and probably the only time that you're ever going to see the number 'quintillion' used on a slide," he said. ®