How big is big enough? It's a question many of us have asked, as we cruise the aisles of Currys or John Lewis, looking for a new TV. It's all too easy to be seduced by a special offer, or by extra features like net connectivity, and end up with a TV that's larger than you anticipated.
And while you might make space for a jumbo set in the living room, is it actually worth it? Even if you're watching a 1080p movie on Blu-ray Disc, rather than the over-compressed mush broadcast by some Freeview channels these days, can your eyes actually make sense of what you're seeing, or are those extra pixels just wasted?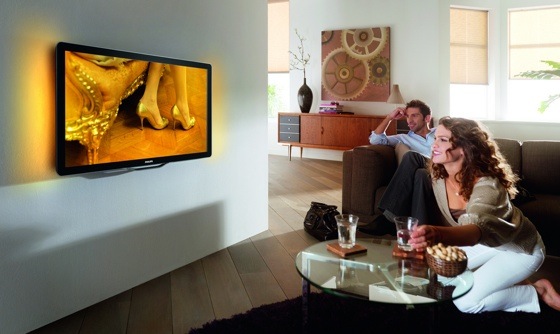 Are you sitting comfortably? And close enough?
Reg Hardware asked me to discover whether or not size really matters when it comes to your HD TV.
Measure for measure
There are three key factors involved: the size of your TV set, the ability of the human eye to perceive visual detail, and how far away from your screen you sit. A 2004 BBC Research and Development department whitepaper reported an mean – and median – viewing distance of 2.7 metres.
How far, Reg Hardware readers, do you sit from your screen?

LG reckons you should sit between 1.2m (22in set) and 4.6m (60in set)
Realistically, TV makers, broadcasters and other experts can give all the guidance in the world, and it won't make a huge amount of difference. For most of us, unless we're creating a room specifically for watching TV, the telly is going to go in one of a couple of places, and we're going to carry on sitting in the same place.
Hands up who's rearranged their living room to move all the chairs closer to the screen after buying an HD set? Anyone?
Similar topics