This article is more than 1 year old
LA Noire
Looking for clues
Help is always round the corner
Luckily, it's not a game breaking flaw. The game is cleverly crafted to ensure you'll always get your man. And any experience points lost through incorrect questioning can be made up by completing one of the many Street Crime side-quests. Nonetheless, its a shame that LA Noire's central mechanic doesn't work as well as you'd hope.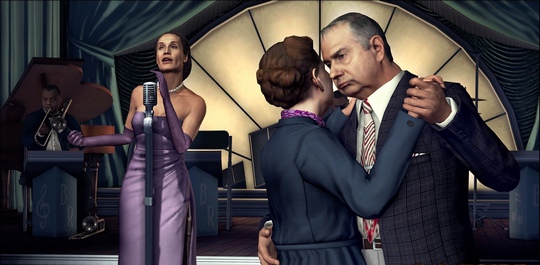 You've been tangoed
There's also an issue of repetition. Nowhere more so than during the Black Dhalia homicide case, where plot devices are repeated all too frequently. A bloodied wheel brace and rope turning up in every suspect's house feels contrived, as does the ubiquitous book of matches leading to a new bar to investigate. But your eventual move onto the vice and arson desks brings a welcome change in theme and tone during the game's latter stages.
LA Noire's narrative deserves special praise. The equal of GTA and Red Dead, its plot and script are grounded in the hardboiled fiction. Despite being being pure pulp, there's not an ounce of schlock to be seen. And, thanks to excellent characterisation – and a cast comprised of a veritable who's who of American TV – the excellent dialogue and voice acting sustain interest throughout.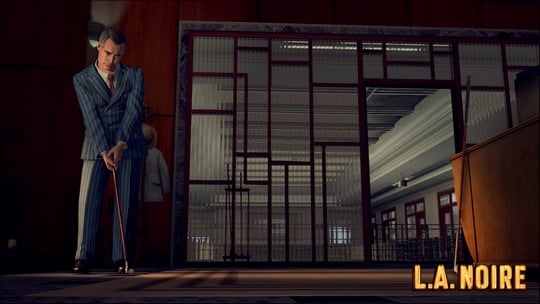 Putt the weapon down
Verdict
LA Noire is a seminal videogame, but by no means a perfect one. Look beyond the astonishing Motion Scan technology and superlative narrative and the game can feel like an interactive movie in the vein of an old Cinemaware game or, worse, FMV CD-Rom. But even though it's debatable exactly how much influence and freedom you have along its heavily scripted path, the experience remains beguiling and memorable. ®
More Games Reviews

Brink
Darkspore
SOCOM 4
Crysis 2
Killzone 3

LA Noire
An atmospheric and entertaining game that successfully resuscitates the adventure genre. Available on Xbox 360 (tested) and PS3.