Playboy sneaks NAKED LADIES onto iPad
Entire back catalogue in fondleslab format
---
Playboy has whipped open the bathrobe on its latest plan to combat falling sales and the ready availability of free net smut – an online version of the magazine's entire 57-year back catalogue.
Those wishing to cough $8 a month (or $60 a year, $100 for two years) for the iPlayboy service are promised "every issue, every Playmate, every celebrity, every article, every joke, even every vintage advertisement".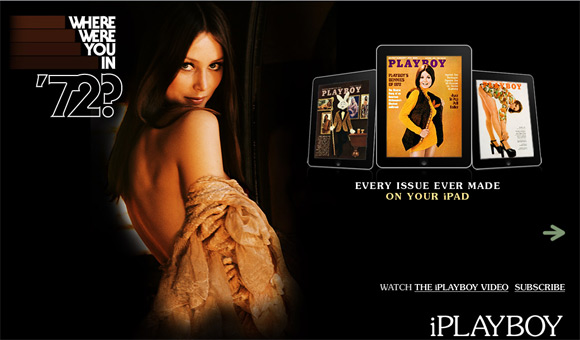 According to the Chicago Tribune, Playboy's chief content officer, Jimmy Jellinek, hailed iPlayboy as "the world's sexiest time machine", which is "meant to appeal to that sense of collective nostalgia and affinity".
Punters will "no longer have to store 57 years – 682 issues – of Playboy under their mattress", he noted.
A big selling point for iPlayboy is the back catalogue's availability on the iPad, entirely uncensored as Hugh Hefner previously promised. This has prompted questions as to just how the smutmonger has managed to bypass the Apple ban on porn.
According to those in the know, iPlayboy isn't offering an app, but simply content optimised for the Cupertino fondleslab.
It's a cunning plan, but there are those who doubt people will be willing to stump hard cash for the service.
Samir Husni, director of the Magazine Innovation Center at the University of Mississippi School of Journalism, summarised to the Chicago Tribune: "The questions are: 'Do I need it? Do I want it? Is it relevant to me?' The answer is: 'No, no and no'." ®