Review Having just played Darkspore, and somewhat underwhelmed by the music and ambient sounds, I am definitely not above lowering games' scores slightly based on sound quality. At times it appears that audio is the developers' last thought and, likewise, I'll admit that choosing the latest graphics card or mouse takes precedence over some new gaming headphones. Yet great sound effects, with thoughtful surround positioning, can create a unique gaming experience.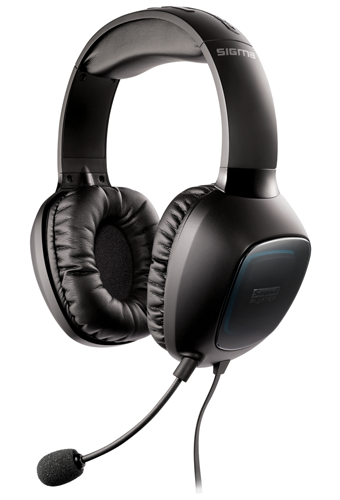 Spaced: Creative's Sound Blaster Tactic 3D Sigma headset
I have been using Razer Banshee headphones for the last six months and even though they are extremely large for my head – and can give me a bit of neck ache if I stick around for a raid or dungeon – I love the way they look and sound. On first glance, I am not sure these Creative headphones can compete.
Unboxing the Creative Sound Blaster Tactic 3D Sigmas – jeez, who thought that name up? I guess they must have studied at the University of Long – my first impression is they look rubbish. What is obviously meant to be an innovative flattened and slightly off angle earpiece says to me Blake's 7 rather than The Matrix.
There is a nod to colour with some kind of blue highlight on the exterior of the headphone enclosure. The pivoting joints don't inspire confidence and give the impression they might not withstand rough treatment. Sure, the Tactic 3D Sigma's padding is spongy and comfy but this headset appears to have been designed by a cheapskate undertaker with a fetish for smelly plastic.
Before I get to how things actually sound, it's worth noting some of the features that add to the usability of the Sigmas, such as the flat ribbon cable. It is the very thin, very flexible, and long with two 3.5mm jacks at the end for mic and audio and controls for volume and mic muting. Believe it or not, for me this cable is a main plus point – it's so light and tangle free that it was like I was wearing a wireless headset. It also reminded me of some yummy liquorice laces, which is no bad thing in my view.

USB adapter bypasses the soundcard to deliver surround audio and mic effects
There is also a noise cancelling detachable microphone included in the box, which is über flexible good for a bend and twiddle while Looking For Group. Forget your soundcard though, you plug in the pair of analogue connectors to the THX USB adapter that connects the Sigmas to your Mac or PC.