Apple seeks anti-snoop display patent
User selectable buttinsky barrier
---
Apple has filed a patent application for a way to vary the viewing angle of a display, and thus allow you to better protect your viewing privacy.
The system in patent application number 20110116017, "Systems and methods for electronically controlling the viewing angle of a display", offers a number of examples – or, in patentese, a "plurality of embodiments" – of how to accomplish this trick.
In each embodiment, the goal is to allow you to switch your device's display from a broad to a tight viewing angle. When the display was set to the tight angle, you'd view it as if it were normal, but someone trying to peek at it from the side would see only blackness.
The simplest of the embodiments seems doomed to degrade display resolution, however, since it requires that for each different viewing angle, each pixel must have an individual "scattering module".
For example, a display manufacturer could add to a display's native 178-degree viewing angle a second user-selectable viewing angle of 60 degrees to prevent those outside of that Cone of Privacy™ from seeing what the user was seeing. To do so, each pixel would require two side-by-side scattering modules, one for each viewing angle.
The filing envisions that each pixel would have a "beam steering module" that would direct the light from the display's source to the correct scattering module. Multiple scattering modules could be used for each pixel, selectable in software.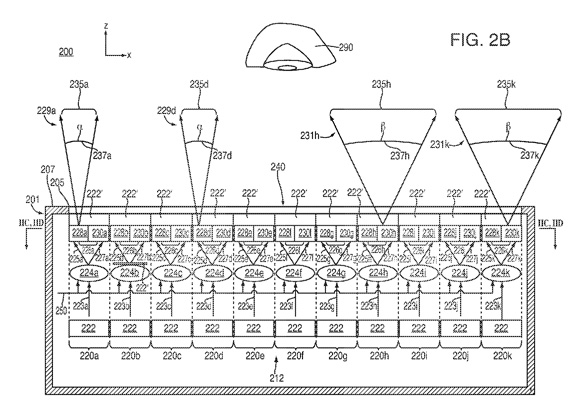 Wide- or narrow-angle display? If this application makes it from patent to product, you'll be able to chose
As you can imagine, the more scattering modules, the greater the distance between the ones that are lit at any given time, and the lower the perceived smoothness and resolution of the display.
As we read patent application 20110116017, it appears that the inventor, David Gere, has attempted to tackle this problem by envisioning one embodiment that scatters light through selectable additive scattering modules – but we confess to being bewildered by some of the jargon. If you, dear reader, have a finer eye for patentese and discern a different meaning, please let us know.
But however this viewing-angle variability may be achieved, having that option would be welcome in many scenarios. Think, for just one example, of composing a steamy love letter while shoehorned into coach-class seat 23B without that busybody next to you peeking at your passionate prose.
Gere certainly though of many a device in which his privacy-enhancing display might be used, which "can include, but is not limited to, a music player, video player, still image player, game player, other media player, music recorder, movie or video camera or recorder, still camera, other media recorder, radio, medical equipment, domestic appliance, transportation vehicle instrument, musical instrument, calculator, cellular telephone, other wireless communication device, personal digital assistant, remote control, pager, computer (e.g., desktop, laptop, tablet, server, etc.), monitor, television, stereo equipment, set up box, set-top box, boom box, modem, router, keyboard, mouse, speaker, printer, and combinations thereof."
Which pretty well wraps it up, don't you think? ®