Review Whenever I ask people what they want in a tablet, I usually get the following answers in descending order of importance: a price tag south of £200, a 7in screen to keep things compact and the ability to play any video or music files you care to mention out of the box plus the option to play them out from HDMI. The Archos 70 fits that bill to a tee, if you shop around.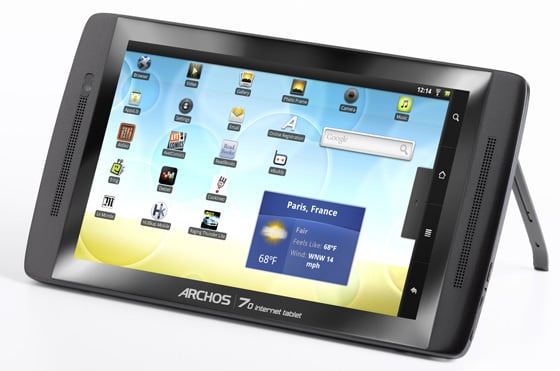 The Archos 70: available as an HDD version too
Put your hand down the front of its trousers and the 70 is much the same as the 101 I looked at a few months ago, but after my recent experience with the Archos 32, which makes rather more sense than the 43, I thought it wise to see if the same was true of the relationship between the 70 and the 101.
In short, it is. Though the 70 and 101 both have capacitive screens, the 70's is the more user-friendly by being just a wee bit faster, more fluid and more reactive.
The underlying hardware and software are the same - a 1GHz CPU with 256MB of RAM running Android 2.2 and, so I suspect, is the screen hardware. But just as the 32 was more slick than the 43 for no overt technical reason, likewise the 70 shades the 101.
With a physically smaller screen than the 101 comes a lower 480 x 800 resolution, but the 70's dots-per-inch count is higher - 135dpi compared to the 101's 120. Even so, that's still a fair bit shy of the Samsung Galaxy Tab's 169dpi.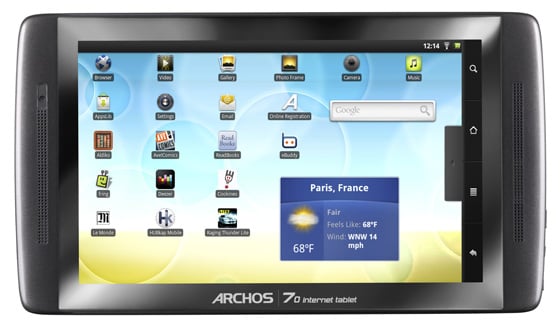 A handy size with enough space for viewing and typing
The drop in screen real estate really isn't that big a deal, as 7in is more than enough space to watch a video or read a book. Moreover, you can happily type something up on the virtual keyboard and still see what it is that you are typing.
Similar topics