This article is more than 1 year old
Fedora 15: More than just a pretty interface
GNOME emerges from last century
Review The Red Hat–backed Fedora Project has released the latest version of its Linux-based operating system, Fedora 15, into the wild.
Despite the similarities of the two leading Linux-based PC operating systems, Fedora has long played second fiddle to Ubuntu in the minds of many Linux fans. Now – for the first time – there are actually major differences between the two distros.
For most users, the debate between the two can be distilled down to GNOME 3 versus Unity. But as always, Fedora remains quite a bit different under the surface, as well.
With the Unity Shell making waves – and not always good ones – in the Ubuntu community, Fedora 15 offers something of a refuge for those frustrated with the Unity Shell.
Unfortunately GNOME 3, Fedora's new default desktop, while in much better shape than Ubuntu's Unity, is still very different than any version of GNOME you've used before.
There's no question that GNOME 3 will be something of a shock for those accustomed to working with the GNOME 2.x line, but once you spend some time with it, GNOME 3 really does feel like a vast improvement over GNOME 2. After all, GNOME 2 borrowed much of its UI design and basic interface concepts from Windows 95 – and it's been a long time since Windows 95 was cutting-edge.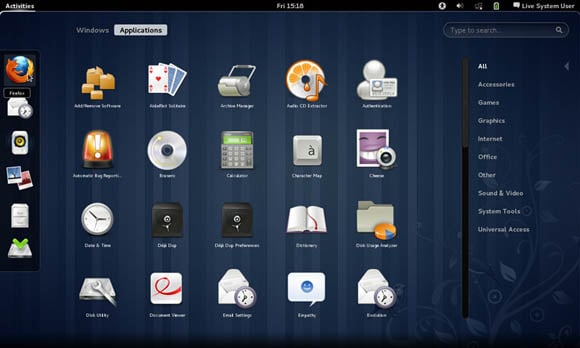 GNOME 3: it's not your father's Win95 clone (click to enlarge)
Perhaps GNOME 3's most distinguishing visual characteristic is that it doesn't look like a cheap knock-off of Windows. Perhaps that's being a bit harsh on GNOME 2.x, but certainly much of the appeal of Ubuntu, and no small part of its success, came from the customizations that Canonical made to the otherwise dull look of GNOME 2.x.
Of course, the outdated look of GNOME 2.x is no doubt a feature to some. Because GNOME 2.x looks more or less like Windows, it isn't hard to make the transition from one to the other. But given that GNOME has never really made inroads on the desktop, it's tough to argue that mimicking the UI of Windows was a sound strategy for GNOME. GNOME 3 carves its own path, dispensing with any similarities to Windows.
GNOME 3 features a very different desktop and working environment. Gone are the traditional menus, icons on your desktop, and other common metaphors inherited from Windows. GNOME 3 was designed around the "Shell", which takes most of the features once found in the three main GNOME menus and pulls them offscreen and into a shell that you call up and dismiss as needed. The result is a cleaner interface, to be sure, but one that's also very different from most OS designs.
In Fedora 15 there is essentially no desktop as you now think of it. There are no main menus to speak of, and no icons to click. Instead, you invoke the shell through keyboard shortcuts or mouse gestures, and all the old features return, in the form of a single, full-screen panel.
From this panel you can launch apps, search by using the search box, and open windows and browse through applications. When you're done doing what you need to do, the shell slides back out of the way, leaving just your open windows and documents.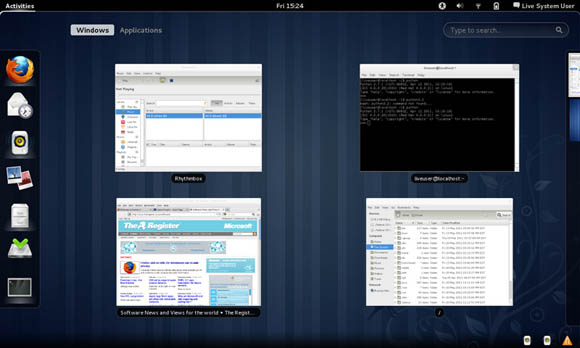 Pick a window, any window (click to enlarge)
I've been using GNOME 3 via Fedora 15 since the Fedora beta was released – and, yes, it did take some getting used to, some unlearning of old habits (and certainly you can debate whether that's a good or bad thing), but after a week or so of day-to-day use, I found it awkward to go back to GNOME 2.x.