This article is more than 1 year old
Super Micro whiteboxes Ethernet switches
Well, they're grey boxes, actually
If you're willing to go to whitebox server maker Super Micro for your motherboards and complete systems, then you're probably willing to consider going all the way and get your network adapters and switches from the company as well. That seems to be the thinking at Super Micro, as the company punts three Ethernet switches.
More and more service providers and hyperscale data center operators are looking at whitebox vendors like Super Micro for servers because they can get a lot more bang for their buck, so why not networking if vendors are all using the same basic silicon for switching?
The first switch from Super Micro is the SSE-X24S, which is a top-of-racker that crams 24 non-blocking SFP+ 10 Gigabit Ethernet ports into a 1U chassis. The machine is a Layer 2 and 3 switch that delivers 480Gb/sec of non-blocking switching capacity and supports 4,000 VLANs; it has redundant firmware for high availability and has two hot-swappable 300 watt power supplies. It has a suggested retail price of $8,920, or a mere $372 per port.
The SSE-X24SR is a version of the machine that has reverse airflow so you can mount it in the back of the server rack and not suck in air from the hot data center aisle, shortening the life of the switch.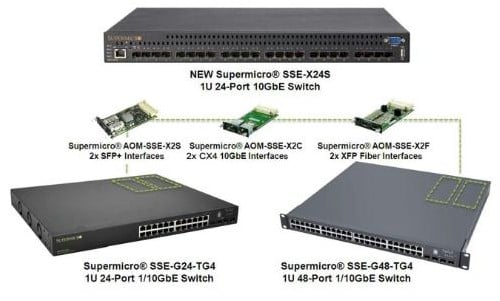 Super Micro's Ethernet switch lineup
The SSE-G24-TG4 is Super Micro's 24-port aggregation switch, which has 24 Gigabit Ethernet ports with four 10GE ports to link to servers with 10GE ports or to be used as uplinks to network backbones. This switch, also packed into a 1U box, has 136Gb/sec of switching capacity and support up to 1,024 VLANs.
Each switch can have two stacking ports, and up to eight can be daisy-chained together to present a single logical switch image to network administrators. It has a suggested retail price of $1,467, or $61 per Gigabit Ethernet port.
And finally, the SSE-G48-TG4 is a 48-port Gigabit Ethernet switch with four 10GE uplinks that has 184Gb/sec of switching bandwidth and supports 1,024 VLANs. This switch, also a 1U unit, can be stacked eight units high, just like the 24-port switch above. The SSE-G48-TG4 costs $2,433, or $51 per Gigabit Ethernet port.
Super Micro and its reseller channel partners discount off these prices - just like all network equipment providers do. ®