What next?
LTE Advanced can aggregate up to five LTE radio channels into one – so if given 20MHz-wide channels, it could treat them as a single 100MHz-wide channel. LTE Advanced also opens up more possibilities for changing cell infrastructure, such as subdividing cells, and supports more antennæ in MIMO configurations – eight downstream and four up, as opposed to four down and one up. Devices can be used while moving at higher speeds – right up to 500km/h.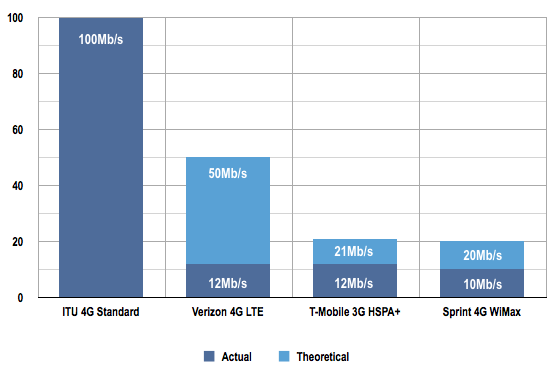 Some way to go before we get true 4G
But at the same time, LTE Advanced includes some of the advantages of CDMA. While it can use large chunks of spectrum for high speeds when required, it can also efficiently scale down to much smaller slices for better bandwidth efficiency – a strength of IS-95 and CDMA2000.
Suitably-equipped phones will be able to talk to both LTE Advanced and CDMA2000 networks – and conceivably WiMax as well, with which LTE Advanced shares its OFDMA multiplexing algorithm.
It's more or less inconceivable that anything else will replace LTE Advanced as the official standard for 4G mobile phones now, although WiMax 2 will have a role too. Which only leaves one big question: what will be the basis of 5G? ®
4G in the UK
Ofcom will be auctioning the LTE spectrum – 800MHz and 2.6GHz – next year, later than originally anticipated. The reason for the delay: UK operators were keen to see how much they can squeeze out of 3G networks before deciding how much to spend on 4G spectrum.
But punters – expecting better performance from 4G phones and seeing how many, more advanced handsets are appearing in other parts of the world – will demand 4G handsets here. Competition-sensitive carriers will eventually supply that demand.
But not until 2015, some analysts believe, at which point the operators hope to have reached the limits of 3G technology - especially now Ofcom has allowed the use of 2G spectrum for 3G applications - and for 4G equipment to be rather cheaper than it is now.
Similar topics