Netflix overtakes Bittorrent as traffic champ
Copyright-holders should wake up and smell the coffee
---
Is solving the copyright "wars" really so difficult? New traffic research shows that Netflix has overtaken Bittorrent as America's favourite internet application, knocking http into third place. "P2P is here to stay," note the authors in Sandvine's Global Internet Report, Spring 2011 edition, which shows that demand for legal, paid-for stuff is the single biggest internet traffic trend.
Copyright-holders who are slow to bless legal services, by contrast, find themselves being swamped by pirates.
Netflix now accounts for 24.71 per cent of peak time aggregate traffic in the US, pushing Bittorrent into second place with 17.23 per cent. By contrast, the Sandvine numbers show that in markets where there are no legal services, pirate services flourish. In Latin America, file-sharing program Ares grabs 15.48 per cent of peak-time (fixed line) internet traffic, behind http. In Europe, Bittorent rules, with 28.4 per cent of peak-time traffic, ahead of http. Here, YouTube grabs third place, with almost 12 per cent of peak-time traffic.
(Bittorrent accounts for more than half of all upstream traffic at peak time, but downstream traffic is greater by around 4:1).
Netflix launched as a DVD rental service in 1999, and added video-on-demand as an option for existing subscribers 2007. The streaming service doesn't support Linux, and is locked down with DRM, but that doesn't seem to have made much difference: it has been an incredible success. Earlier this year, it announced it was commissioning original content – a version of the 20-year-old BBC drama House of Cards.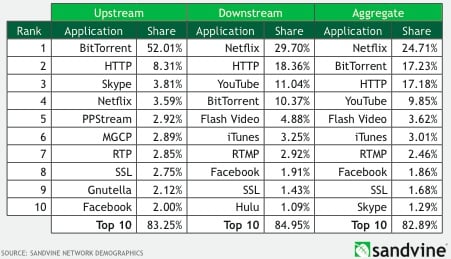 US: peak-time, fixed-line traffic share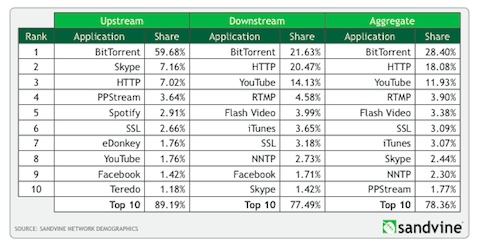 Europe: peak-time, fixed line traffic share
The fact that Netflix sells a bundle seems to me to be the most overlooked factor here. If you join, you not only receive DVDs in the post, but also receive "free" viewing on your Mac or PC, or via a games console or Netflix-enabled TV (Or even a streaming-enabled hard drive). A payment of $7.99 a month (less than a fiver in sterling) buys you unlimited streamed movies. It's good value, and lots of people want in. And when people consider something to be good value, they put their hands in their pockets.
The research shouldn't just be a wake-up call to copyright-holders, though. Cable companies which are slow to update their movie and TV catalogues risk being overtaken. And Google, which spent billions acquiring the world's biggest collection of useless junk, and billions more building a private internet to deliver it all around the world, must wonder why it bought such a basketcase. The collection of lip-syncing teenagers, and sneezing pandas, doesn't really have the same money-making potential.
Google knows this, and has been playing nice with Hollywood. But Google has two conflicting interests. Its economic engine is its advertising business, and its greatest area of expertise the paid search infrastructure around that. While Netflix can offer attractive bundles, and existing players make buying stuff easy with one click, Google finds itself with the wrong content, the wrong brand, and wrong business model: quite a collection of handicaps. ®